Love Doll Fake Ass Masturbator Realistic Pussy Anus Butt Sex Torso Toy
An ass masturbator is an ideal product for individuals who enjoy anal stimulation and desire to incorporate a sense of realism into their solo sessions. These products range from fleshlight-style strokers with an anal orifice to full jiggling buttocks, catering to a diverse range of preferences and budgets. In addition to providing visual stimulation, many ass masturbators feature tantalizing textures that enhance the experience with each thrust. While commonly used for solo play, ass masturbators can also be a playful addition to partner play.
Our fake ass masturbators and realistic vagina sex toys are crafted with meticulous attention to detail. Each curve, texture, and sensation is designed to mimic the real thing, ensuring an experience that's as close to reality as possible. From the soft, supple touch to the lifelike textures that'll leave you breathless, our toys are built for the ultimate pleasure.
Whether you're looking for an intimate, lifelike encounter or craving a thrilling adventure, our Ass Sex Doll collection has something for everyone. From tight, realistic vaginas that offer an authentic experience to the enticing allure of a fake ass, you can explore your deepest fantasies with confidence and discretion.
Our fake ass masturbators and realistic vagina sex toys are more than just toys; they're your keys to unlocking unparalleled satisfaction. Crafted from body-safe, high-quality materials, they're easy to clean and maintain, ensuring your pleasure is worry-free.
Indulge in the sensations you've always dreamed of. Discover the world of pleasure that awaits with our Best Fake Ass Masturbator and Realistic Vagina Sex Toys. Your satisfaction is our mission, and your desires are our passion. Explore, enjoy, and experience ecstasy like never before.
Make an Informed Decision When Purchasing an Ass Masturbator Torso
In the realm of adult toys, there are two primary categories of ass masturbators: strokers and entire asses. In this review, we offer the best of both. Stroker-style anal Fleshlights are compact and easy to clean, making them ideal for those who desire the convenience of a stroker with the look and feel of anal sex. Whole ass toys, on the other hand, provide a more realistic experience by offering an entire ass to jiggle, smack, and play with. Most full-sized ass dolls also include a vagina or penis, providing an additional option for those not in the mood for anal.
When selecting an ass masturbator, the materials used are of utmost importance. Silicone is the highest quality material, as it is non-porous and does not harbor bacteria. However, it is more expensive and less flexible than other materials. TPE is a more budget-friendly option that is soft, flexible, and stretchy, but it is porous and requires extra care during cleaning. SuperSkin, Fleshlight's proprietary blend of TPE and other materials, offers the same benefits as TPE but is formulated to retain temperatures and feel more realistic to the touch.
When purchasing an ass masturbator, several factors should be considered. Size is important for those with limited storage space, while price and life expectancy should also be taken into account. The number of orifices offered and the internal texture and intensity of the toy should also be considered. By taking all of these factors into account, you can ensure that you end up with a toy that meets your needs and provides a satisfying experience.
Realistic Vagina and Fake Ass Masturbator Durable Butt Sex Torso - Tantaly Cecilia
Cecilia presents an exceptional equilibrium, boasting a size that is neither too large nor too small, too tight nor too loose, and both orifices are equally impressive. Measuring 12 inches in length and weighing 20 lbs., she is an ideal size for most individuals, providing ease of mobility and optimal functionality for cowgirl positions, while also offering a realistic weight and feel when grasping her hips.
Her textured vagina features six hard beads that expertly massage the shaft, delivering an unparalleled level of stimulation that remains grounded in realism. Additionally, her tight and intricately detailed anal opening provides an added level of pleasure.
While maintaining Cecilia's cleanliness may present a challenge, particularly when it comes to her anal region, investing in a specialized cleaning kit is highly recommended to ensure optimal hygiene.
Despite her impressive features, Cecilia is surprisingly affordable, priced at just over $200. This exceptional price-to-pleasure ratio makes her a standout option among other artificial buttocks on the market.
Fat Ass Sex Dolls Torso Masturbators - Tantaly Rosie
If you are seeking a more substantial option than Cecilia, we recommend taking a look at Rosie. This full-size model boasts a weightier build compared to the petite Cecilia. While this may pose a challenge in terms of storage, the benefits are undeniable.
Rosie's posterior is a sight to behold - round, firm, and athletic. Her internal texture is equally impressive, featuring a tight and highly textured design that offers a range of stimulating sensations, including comb teeth and contractions.
While maintaining Rosie's pristine condition may require a cleaning kit and some patience, the investment is well worth it. After all, the best products require proper upkeep.
We are excited to introduce our latest product, the Tantaly Rosie, which boasts a multitude of impressive features that are sure to enhance your pleasure experience. With its incredibly realistic look and feel, lifelike internal textures, and soft, jiggly, and responsive body, the Tantaly Rosie is the perfect addition to your collection.
Tantaly Rosie, the half-size torso, offers full pleasure with this lifelike size masturbator. Experience realistic sex anytime with this product. Delight in the super realistic anal sensations with the textured anus and butt that bounces back with each thrust. This product is also perfect for a little grabbing and spanking for extra realism. Additionally, the realistically textured vaginal canal provides even more fun.
Explore different positions with Rosie, such as using her as a doggy style masturbator or letting her ride on top. This product is perfect for those seeking the ultimate realistic experience and something to thrust into. However, it is important to note that the Tantaly Rosie weighs 30 lbs and requires lifting and manoeuvring.
You should buy the Tantaly Rosie if you...
the ultimate realistic experience
want something to thrust into
are able to lift and manoeuvre 30 lbs
love having something to spank
You should not buy the Tantaly Rosie if you...
have limited storage space
If you have limited storage space or are on a budget, the Tantaly Rosie may not be the best fit for you.
The Features of Rosie
| | |
| --- | --- |
| Height | 9.7 inches |
| Width | 40.94 inches |
| Insertable length | Vagina: 5.98, Anus: 5.12 inches |
| Diameter (internal) | Vagina: 0.8, Anus: 0.28 inches |
| Materials | TPE  |
| Weight | 31 lbs |
| Openings | Vagina & anus  |
| Storage Bag Included | Yes  |
| Colors Available | Fair & Wheat   |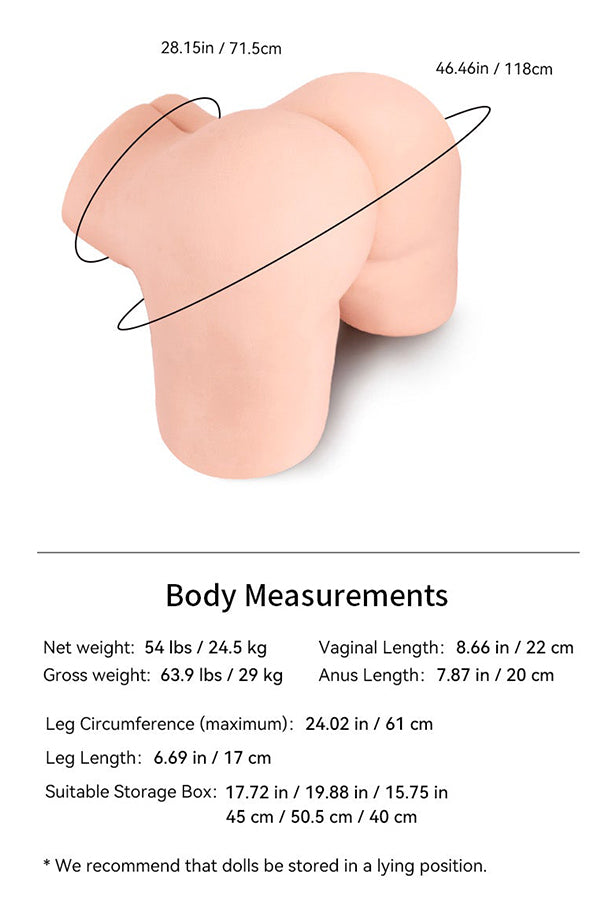 Not only does the Tantaly Rosie offer a realistic experience, but it also allows you to explore multiple positions, providing you with a versatile and customizable experience. We are confident that the Tantaly Rosie will exceed your expectations and provide you with the ultimate pleasure experience. The Tantaly Rosie sex doll has several pros, including its incredibly realistic look and feel, lifelike internal textures, ability to explore multiple positions, and soft, jiggly, and responsive body.
In conclusion, the ass masturbator offered by Tantaly is a highly recommended product for anal aficionados seeking an unparalleled realistic experience. The attention to detail in the design of this torso is truly impressive and our tester found it to be well worth the investment. The natural jiggle and movement of the toy adds to its realism and enhances the overall experience. While the price may be a drawback for some, those who are willing to invest in one of the best anal masturbators on the market will not be disappointed.
If you desire a product with exceptional skin, tight orifices, and a stunning full-size posterior, Rosie is the perfect choice for you.
Realistic Butt Masturbators Life Size BBW Ass Sex Doll Torso - Tantaly Eva
Tantaly Eva represents a superior upgrade over Rosie in terms of both price and physical attributes. Her realistic features are unparalleled, boasting a photorealistic vagina and skin that will leave you in awe. With deep and stretchy orifices, Eva can accommodate even the most well-endowed individuals without sustaining damage.
While Eva's price point may be double that of Rosie, her larger size and more convincing skin texture make her a worthwhile investment. Her flawless complexion and realistic goosebumps are sure to impress.
Although tantaly sex doll Eva is only available in one color, it is a stunning shade that is sure to please. Additionally, her perfectly sculpted posterior is a standout feature that will not disappoint.
Overall, Eva is a top-of-the-line option for those seeking a realistic and satisfying experience.
Maximizing Your Pleasure: Tips for Enjoying Realistic Ass Toys
Indulging in a realistic ass toy can be a thrilling experience, and with the right approach, you can take your pleasure to new heights. To start, ensure that you have a sufficient amount of water-based lubricant on hand to enhance your experience.
One of the simplest ways to enjoy your toy is through anal or vaginal masturbation. While doggy style is a popular position, don't be afraid to experiment and find new ways to enjoy your toy.
For couples interested in exploring threesomes, a realistic ass toy can be a great addition. It provides a low-pressure way to test the waters and see if a third person is something you're interested in.
If you're in the market for a new toy, consider Tantaly's top-rated options. Whether you're flying solo or exploring with a partner, their realistic vagina and butt masturbators are sure to satisfy.
In conclusion, with the right mindset and tools, a realistic ass toy can provide endless pleasure and excitement. So why not give it a try and see where it takes you?
Fake butts can be just as fun as real ones, so grab one (and spank it) today.