Things to Know before Buying Sex Dolls Removable Vagina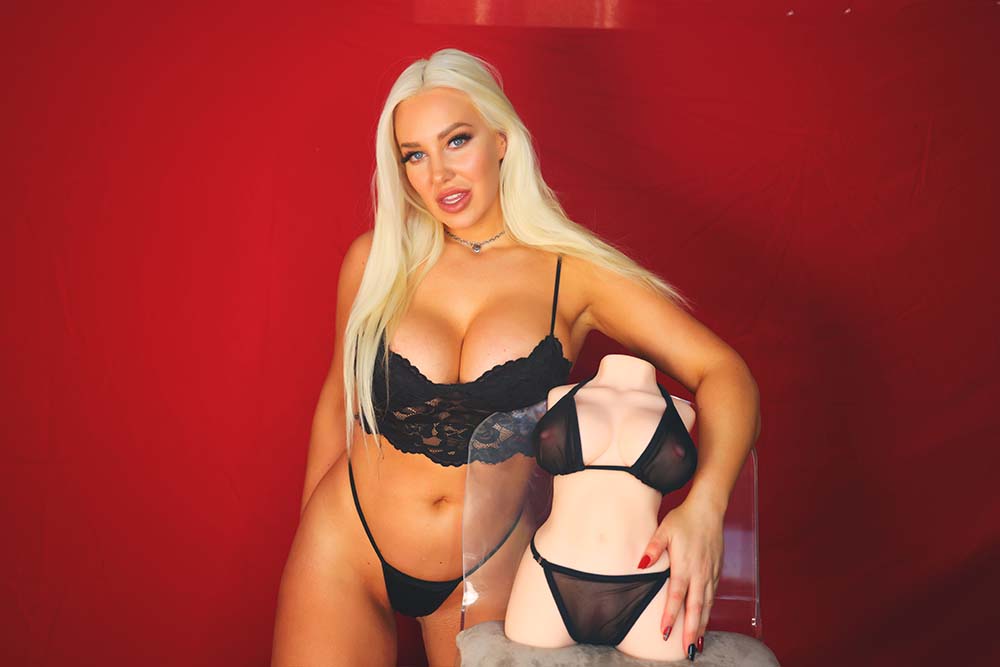 In the world of adult companionship and intimate exploration, sex dolls have evolved into highly customizable and lifelike companions. Among the many features available in modern sex dolls, one option that has garnered attention is the removable vagina. If you're considering a sex doll with this feature, or you're simply curious to learn more, this article will provide you with a comprehensive overview of what you need to know about sex doll removable vaginas.
If you are considering purchasing a sex doll, one potential dilemma you may encounter is between sex dolls with a fixed (also called a built-in vagina) or a removable vagina (sometimes called an insertable vagina or a replaceable vagina).
When looking for the perfect sex doll, one of the most important features to consider is the type of vagina she has. There are two main types of sex doll vaginas: insertable, removable vaginas and built-in vaginas. Both types of vaginas have different advantages and disadvantages, and it's important to understand the differences before making a purchasing decision.
The first type of vagina is the insertable removable vagina. The removable vagina inserts into the body cavity of the doll and is removable for easy cleaning. This type of vagina is usually made of silicone and feels like a real vagina. Insertable removable vaginas are also more customizable than built-in vaginas because they can be replaced with different models and textures. However, they are more expensive than internal vaginas. The second type of vagina is the internal vagina. The internal vagina is permanently attached to the doll's body and is usually made of TPE or thermoplastic elastomer. Internal vaginas are less expensive than inserted removable vaginas, but are not customizable.
A fixed vagina means that the sex doll's vaginal opening is an inherent part of its anatomy and closely resembles a real woman's vaginal opening. Insertive vaginas, on the other hand, come with a sleeve-like insert that can be easily attached to or removed from the sex doll's genital area. Ultimately, choosing a fixed or removable vagina for your sex doll comes down to personal preference. It may be worthwhile to briefly examine each option's potential advantages and disadvantages.
When choosing between a removable vaginal insert and a built-in vagina, it's important to consider your budget and how realistic you want it to be. Insertable removable vaginas are more customizable and realistic, but more expensive. Internal vaginas are less expensive, but they are not as customizable or practical. Ultimately, the decision is up to you and should be based on your personal preferences and needs.
Understanding Removable Vaginas
A removable vagina is a feature in some sex dolls that allows users to detach and clean the intimate part of the doll separately. These vaginas are typically made from soft, realistic materials such as silicone or TPE (thermoplastic elastomer) to enhance the lifelike experience.
The Benefits of a Removable Vagina
1.Easy to clean: One of the most significant advantages of a replaceable vagina is that it's effortless to clean. With a separate vaginal insert, you can easily remove and clean it, ensuring your sex doll's intimate areas remain hygienic and fresh.
1. Hygiene: One of the primary advantages of a removable vagina is improved hygiene. Being able to separate and clean the intimate area thoroughly reduces the risk of bacteria buildup and makes maintenance easier.
2. Durability: Removable vaginas are designed to be durable and long-lasting. Proper care and maintenance can extend the lifespan of the doll's intimate parts.
3. Low replacement costs: If the removable vaginal parts become damaged or worn out from frequent use, replacing the insert is easier and more cost-effective than replacing the entire doll.
4. Discreet Storage: Detachable vaginas make it easier to store the doll discreetly, as you can keep the doll's body and the removable part separately.
The difference between an inserted detachable vagina and a built-in vagina
Fixed vagina
The fixed vagina is recommended for those who are looking for a true-life realistic female doll (both in practical and sensation). The vaginal cavity of the doll is designed for maximum ease of use. It comes in a spiral shape with calm little ridges to deliver sensations that procure amazingly real pleasure. Therefore this vaginal type is permanent, non-removable, and requires constant cleaning after use.
The fixed vagina is best for clients who are looking for a true life realistic female doll (both practical and sensational) experience. Realistic sensations (fixed vaginas are usually tighter than removable vaginas) and you can enjoy the sensation of having sex with a real woman.
Insert vaginas
Insert vaginas to deliver the same pleasant sensations. They measure 6 inches in diameter and are made out of soft materials like your regular silicone doll. You must clean these insert vaginas after each use (just like the fixed vaginas). The insert vaginas are usually equipped with a tube or vaginal barrel, which you can remove for quick cleaning. They are generally made with the same material as with the doll itself. Because you can detach the insert, you can carry out the cleaning technique independently without the real doll. Just wash it carefully in water.
Introducing the Tantaly Mia Removable Vagina Sex Doll - the ultimate solution for a clean and worry-free experience. Boasting three removable vaginas and a fixed regular anal canal, tantaly sex doll Mia offers the same insertion sensation as a fixed vagina, but with the added benefit of customizable pleasure. Cleaning is a breeze - simply remove the vagina and wash it separately for easy drying and placement. Say goodbye to the hassle of carrying a bulky sex doll for cleaning and hello to the convenience of the Tantaly Mia Removable Vagina Sex Doll.


You can easily replace or buy a new insert vagina once the old one gets old or damaged. But if you own a damaged fixed vagina, you may need to purchase another new sex doll, which can be expensive. Because you can detach the insert vagina, the cleaning method is done independently without the real doll by gently washing it in water and dry. You can easily sell a used doll with an insert vagina since it's possible for the buyer to buy a new vagina. The size of the vaginal barrel is about 6-7 inches and uniquely textured in excellent detail for your pleasure. Insert vaginas are created in a way that once you place the barrel within the doll, it stays secure and does not damage or pull out upon use and stays strong after a lot of tear and wear. While it depends on the sex doll brand, most vagina inserts can achieve many decades of lifespan if properly maintained.
How The Sex Doll Removable Vagina Works
Two legs in the upright position, and basically, you're just going to like a normal girl spread the legs. Then you'll notice that there's not a lot of space for you to get in between with the leg spread like that. But what you can do is push the legs further towards her head. And that will give you space to get between her legs once you spread them all the way. Get some baby powder, and then sprinkle it. And seeing this dust, the outside of the vagina will make it less tacky. Now you've done that, you're going to take this powdered tube and shove it inside her vagina.
Now, if you want to make stuff really easy on yourself. What you could do is leave the tube a little bit out. And that'll make it easier for you if you're not one of those people that like have to see yourself going into your sex doll and make it so visually stimulating. If you just want an easy clean up, then this is the best thing to do right here.
Now let's say that you want to see your dick going inside there, and you want it to be as visually accurate as possible. Well then, what you would do is shove it in even further. so these lips here you can spread them and you can make the regime go all the way inside past the lips. Here, essentially you won't even be able to see it. Let's say that when you come inside Virginia when you pull out some semen would leave inside when you pull the removable vagina out. What you're going to have to do is clean the inside cavity of the sex doll. Once you're done what you want to do is clean your hands off, go clean your penis off in the sink. And then come back with clean hands. Then you're going to remove the vagina. Because you didn't insert it all the way like I recommend it to you. This will easily pull out. You could take your baby wipes and clean around here around her groin area. And then you'll eventually work your way in, .and you will clean the dirtier surfaces which are going to be like the anus where some lubrication leaked in. and then you could get inside the vagina and you could clean out whatever fluid may have gotten in there.
How to Use a Sex Doll with a Removable Vagina
Using a sex doll with a removable vagina is relatively straightforward. Here are the basic steps:
1. Detach the Vagina: Gently remove the detachable vagina from the doll's body. Follow the manufacturer's instructions to do this safely.
2. Cleaning: Clean the removable part thoroughly using warm water and mild soap or a specialized toy cleaner. Ensure it is completely dry before reattaching it.
3. Reattach: Carefully reattach the vagina to the doll's body, following the manufacturer's guidelines.
4. Use Lubrication: Always use a water-based lubricant when using the doll for a smoother and more enjoyable experience.
Maintenance Tips
To keep your sex doll's removable vagina in the best possible condition, follow these maintenance tips:
- Clean the detachable part after every use.
- Store the removable vagina separately from the doll to prevent any damage or deformation.
- Avoid using sharp objects or excessive force that may cause tears or damage to the material.
- Periodically apply a renewing powder or cornstarch to maintain the softness of the material.
How do I install a removable vagina?
1.Choose your favorite removable vagina.
2.Removable vaginal surfaces need to be coated with renewal powder.
3.The vaginal cavity also needs to be coated with renewal powder.
4.Note the installation direction of the removable vagina.
5.With one hand, spread mia's legs and with the other hand, hold the removable vagina and send it to the deepest part. Be careful to move gently so as not to cause tearing.
6.Slight adjustment.
7.Installation complete.
Effective Techniques for Cleaning a Sex Doll's Removable Vagina
Maintaining the cleanliness of your sex doll's removable vagina is crucial for both the longevity of your doll and your personal health. Fortunately, cleaning a removable vagina is a much simpler process than cleaning a fixed one. It is recommended that you clean the removable vagina after every use. To do so, you will need antibacterial soap (included in the grooming kit), a soft and absorbent towel, TPE powder (cornstarch or talc), and a make-up brush.
Begin by removing the vagina and taking it to the sink. Wet it with warm water, being careful not to use hot water. Add a few drops of antibacterial soap to the inside and outside of the vagina and work it into a lather. Gently turn the vaginal sleeve inside out to ensure that every inch is cleaned. Rinse thoroughly until all traces of soap are removed.
Wrap the vagina in an absorbent towel, preferably microfiber, to avoid leaving any lint behind. Gently pat dry and turn the vagina back to its original form (outside out). Pat dry once again. Sprinkle TPE powder inside the vagina and use the make-up brush to spread it evenly. Repeat this process on the outside of the vagina.
Finally, replace the removable vagina and sprinkle additional TPE powder on the doll's labia and clitoris. By following these simple steps, you can ensure that your sex doll's removable vagina remains clean and hygienic, promoting both the longevity of your doll and your personal health.
A sex doll with a removable vagina can offer enhanced hygiene, durability, and customization options for a more satisfying and enjoyable experience. Understanding how to use and maintain this feature is essential to ensure the longevity and cleanliness of your doll. Insert vagina comes with more benefits than the fixed vagina. They can be easily cleaned and dried and can be cheaper to replace when damaged. That's why many prefer to go for sex dolls with inserts.