Realistic Torso Ass Tantaly Eva Sex Doll Butt Female Real Dolls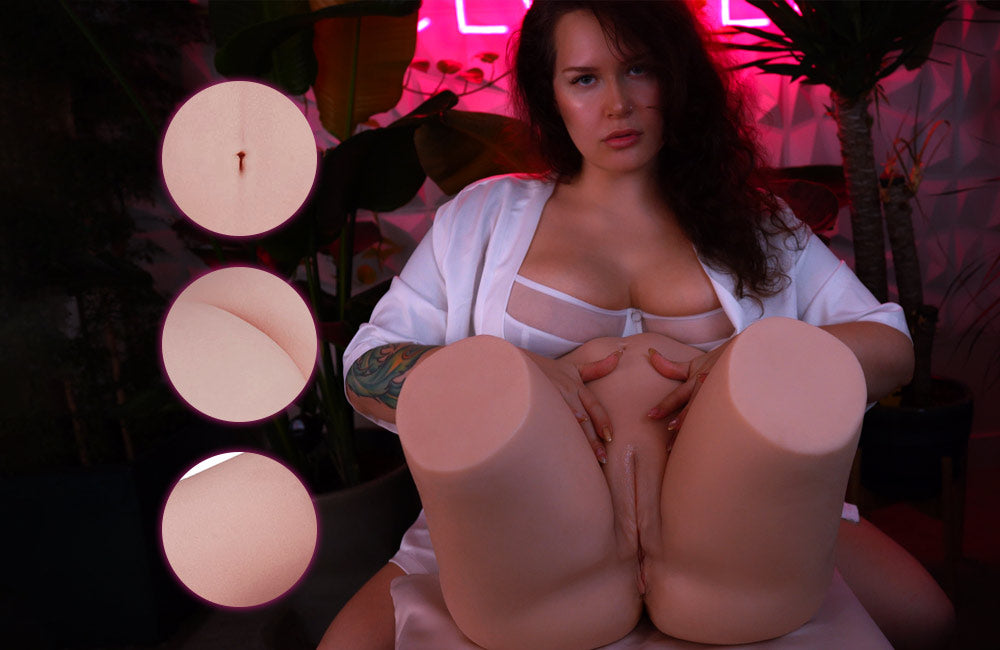 If you love the idea of modern full-size sex dolls but just don't have the space or cash for something so large, it's time to consider your options. Do you opt for a simple fleshlight, or is it possible to find something that is a cross between the two?
If you've ever looked around for a sex doll torso before, chances are, you've heard of Tantaly. Unlike other companies that sell full-sized sex dolls, Tantaly aims to provide consumers with high-quality torso dolls, and torso dolls alone. They do not sell any full-sized sex dolls.
I recently tried out the Tantaly Eva BBW sexy-ass toy that is the same size as a lovely curvy butt. It merges the best aspect of sex dolls and fleshlights to offer something compact, classy, and comfortable. Sex dolls can cost thousands of dollars for a decent one, but if you only have a few hundred bucks to spend but don't want to miss out on the fun, this could be the solution to your problem.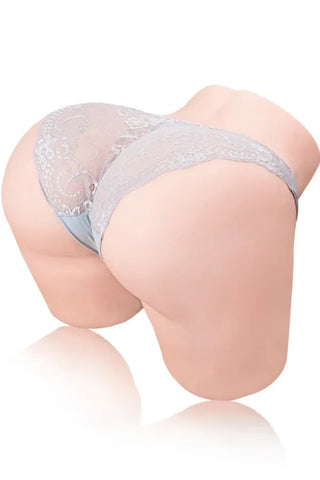 Eva is essentially the ass and pussy section of a full-size sex doll. It has the same dimensions, the same two realistic holes, and feels so real, soft, and responsive. It's a bubble butt BBW toy that you can store easily under your bed away from prying eyes. And because it only uses a fraction of the materials you find in a full-size doll; it's immensely cheaper and a viable option for budget buyers looking for a great deal.
Eva is not your normal sex doll ass toy that is based on a young and supple teen. She is more authentic than that. This Eva toy is designed in the vision of a sexy mature 35-year-old sex bomb that has a big old bubble butt.She is like one of those older women you fantasized about banging when you were a teenager. Eva just broke up with her boyfriend and is on the rebound to not only get filled but also to make her former partner jealous.
These types of bubble butt sex toys are really becoming a thing. Some people might get grossed out by the appearance of a singular butt section, but once you get used to it, you wonder how you survived so long without her. Is it the same as having a proper authentic sex doll? Yes, and no. Eva obviously has no arms, legs, body, or head, but the part of a doll we love to pound is in full working order.
She is looking for a relationship that merges romance with hardcore shagging, and she believes that you are the man for the job. She's essentially a shy person, but once you get her back to your apartment, she will pounce on you like the sex-deprived divorced cougar she is. Eva is passionate, charming, bold, and deliciously delectable.Eva had a boatload of interesting features that combines to make her such a sexy solo companion to spruce up any masturbation session. But what makes Eva so great? And what are the features that make her so desirable?
Tantaly has a cool line of realistic butt sex toys, but Eva has the largest ass out of those options. She really is an ass-lover's dream and a booty fanatic's premium choice every time. Her perfectly shaped bubble butt is round and contoured to perfection.
The quality of Tantaly products is incredible, especially Eva. It's big enough and heavy enough that you can use it as a throw pillow, so it's a different feeling than normal throw pillows. It achieves a fluffy and soft friction feeling like cotton candy, and it also has an excellent hand feeling.
Her butt is soft, responsive, plump, and so spankable. In fact, when you are deep inside Eva and banging her hard from behind, if you slap her butt, it jiggles as a real ass should.
She has huge hips, and if she was attached to the rest of the body, it would be an hourglass shape. You can take a firm hold from behind and pound that ass until the cows come home without worrying about rips, tears, or breakages. Her ass is phenomenal, and it feels just like the real thing.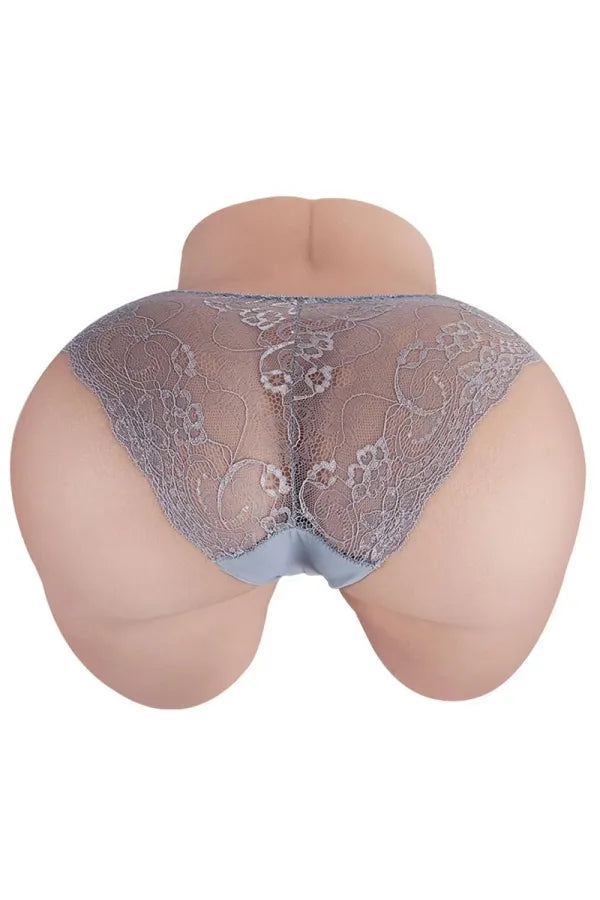 Eva's skin is made from super-soft TPE materials that make it feel so real to the touch. When you grab that ass from behind, you won't believe how it reacts. If you look closely at her skin, she has blemishes, goosebumps, and other textures that take the realness to the next level.
Eva's ultra-realistic vaginal and anal passage tunnels are the star of this show. Each of Tantaly's butt toys has uniquely designed ass and pussy tunnels that are different for each model. These differences massively affect the penetration, stimulation, how it feels, and even the cleanup process.
The flexible TPE material is elastic in its conception, so it can literally stretch to almost any cock size while remaining tight and comfortable. The material also works great with water-based lubrication products, although I wouldn't use silicone-based or oil-based lubes because they might cause damage to the material.
Eva's impressive vag is 22cm (8.66in) long and 2cm (0.8in) in diameter. Her ass hole is 20cm (7.87in) long and is 0.7cm (0.28in) wide. There are loads of internal bumps and ripples that give these holes a realistic feeling.
Having a quality bubble butt sex toy instead of a full-size sex doll is convenience at its best. The most important part about a full-size sex toy is the ass and pussy anyway. So in effect, getting rid of the cumbersome body and limbs makes it so easy to store away in tight spots. This is especially great if you live in a small apartment with limited space.
Having a sex doll is more convenient than having a real woman, and having a bubble butt toy is a more convenient version of a doll, for a fraction of the price. So convenience is the true currency when buying these types of sex toys.
You can use Eva in either doggy-style or missionary positions. But that's just about it, because you don't have too many sex toy position possibilities with Eva because she doesn't have any arms or legs to securely keep her in place. You can either lay her on her back or place her in doggy with her ass sticking in the air.
Net weight: 56.22lbs / 25.5kg
Gross weight: 61.73lbs / 28kg
Vaginal Length: 8.66in / 22cm
Anus Length: 7.87in / 20cm
Leg Circumference: 24.02in / 61cm
Leg Length: 6.69in / 17cm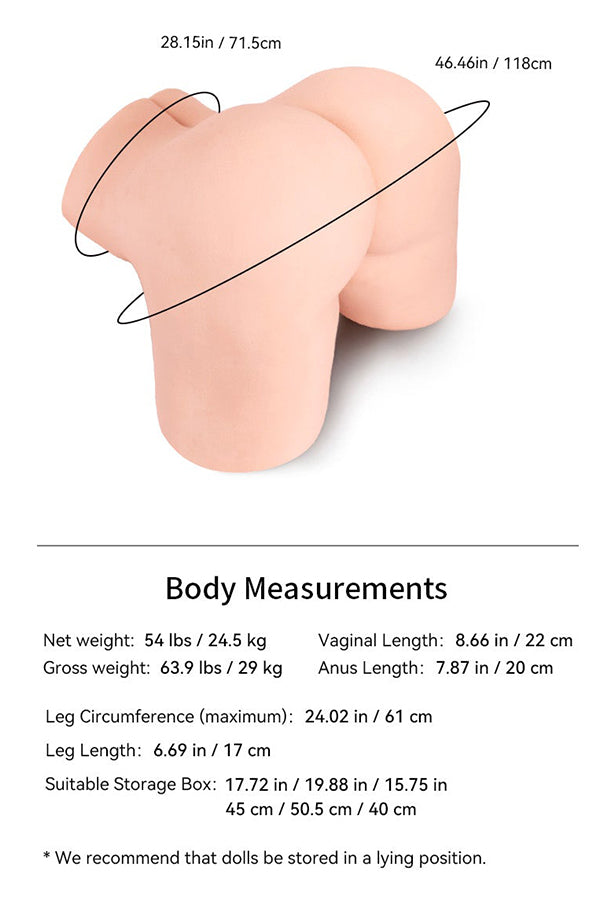 Tantaly Eva Pros
Easy to use bubble butt sex toy.
Simple to store under your bed.
Must less expensive than a full-size sex doll.
Has two flexible sexual orifices.
Made from realistic skin-like TPE materials.
You can use her for glorified masturbation or even as a training tool to improve your sexual performance. For example, she can be used as a great way to cure premature ejaculation.
When you are pounding Eva, and you feel that climax is imminent, slow down to an almost stop until the climax subsides, and then start building up your pumps again. This should train your penis for sexual longevity. Whichever purpose you use it for, all you need to do is apply water-based lube such as the quality yet affordable Ultra Lube Water Based Lubricant 16 ounces to your penis and also to both of Eva's sexual orifices and pound away all you like.
If you're looking for something bigger, then you'll enjoy my reviews of the Best Sex Dolls for Men, the Best BBW Sex Dolls, the Best Realistic Sex Dolls, the Best Japanese Sex Dolls, the Best Elf Sex Dolls, and the Best Anime Sex Dolls currently on the market.
The busty body of 54lb Fair 2.0 will bring you an unexpected experience. Thousands of people and faces. Many clients report that they love the stimulating sex that comes with Eva in the doggy position. And you? If you have a better story to share with us, welcome to leave a message! Your objective evaluation will become a reference for other customers.