Big Ass Torso Sex Dolls Tantaly Rosie Most Wanted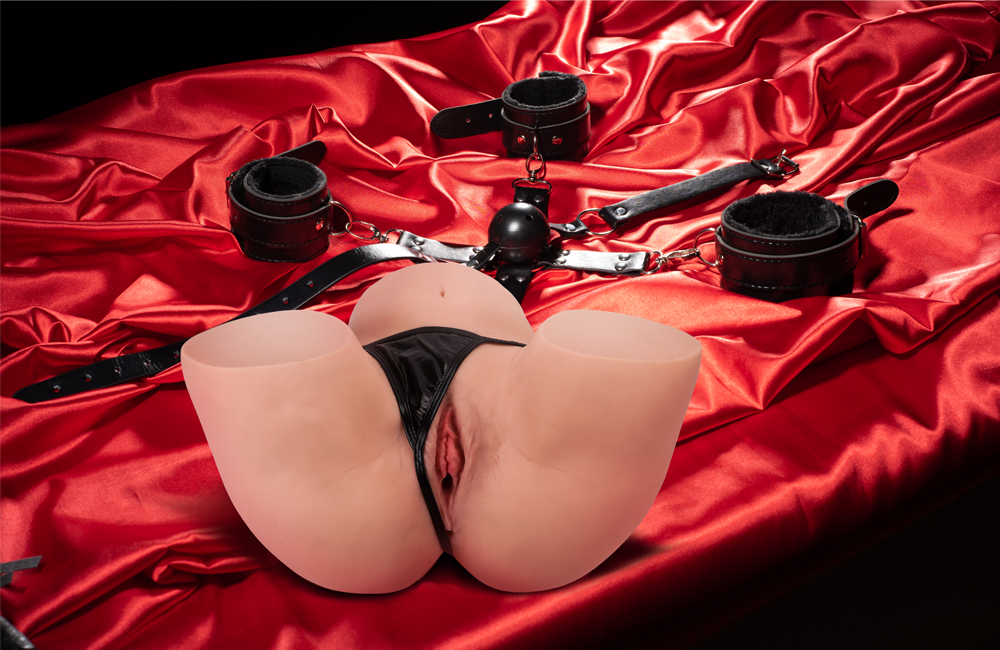 OMG, look at her butt! The Tantaly Rosie is worth the money. The Rosie partial doll is both fun to touch and use. It has very soft, yet bouncy skin, is easy to clean, and is also quite versatile. Tantaly's Rosie is beautifully designed, and weighs a little over 30 lb. Due to this, be mindful of how you use it and whether or not you can easily pick it up.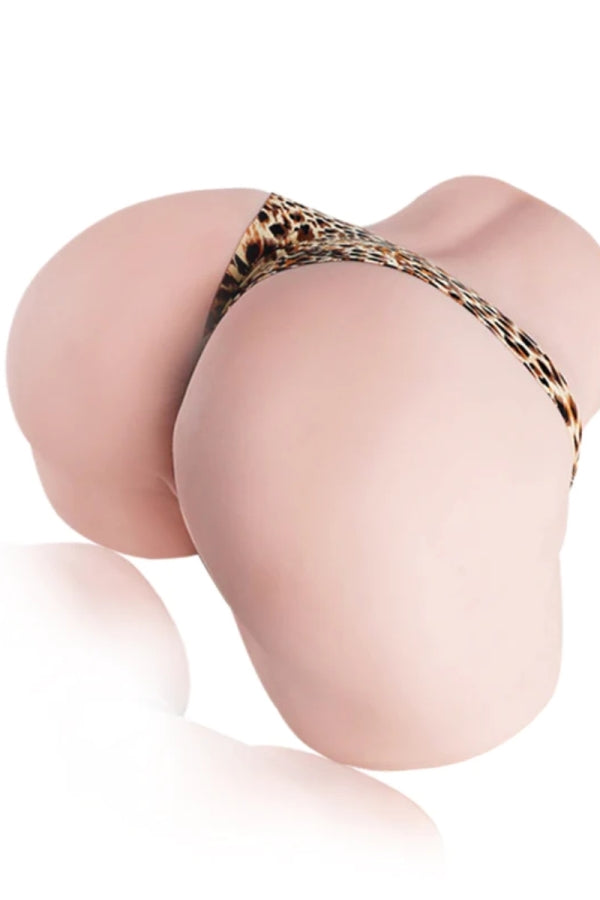 Tantaly's Rosie partial doll (Rosie for short) has a beautiful design. Whoever designed the toy paid close attention to the female body, which I appreciated. Outside of the look of Rosie's vagina, the toy has a firm ass that is a joy to look at. Not only does Tantaly's Rosie look good, but the toy also has a great feel. The best way I can describe how Rosie feels is that it feels like well-moisturized, bouncy skin. Rosie's skin is oily, also. Due to this, one must be mindful of where they leave their toy.
The Rosie big-butt sex doll torso is weirdly hard to handle. Imagine something that's really heavy, as difficult to grip and move as human flesh, and doesn't really have any bones in it. That's pretty much the Rosie butt sex torso. It's over 30 pounds of super squishy, super-wiggly, realistic material. Essentially, the things that make it feel hot as hell to hump are the things that also make it hard to handle and move around. You need to plan for this ahead of time.
Tantaly Rosie Ease of Use
Do you have to penetrate at an angle? Do you enjoy penetrating your sexual partner while standing, hovering over them, or lying on your back? Do you prefer your partner to ride you? Depending on your answer, your ease of use will change. Using the toy while standing provides easier access to either hole; however, placing Rosie on its back (vulva pointing to the ceiling) may cause some difficulty because the toy moves more. Those who do this must be mindful that the toy weighs 30 lbs. Depending on your strength level, this can become a hassle.
Tantaly Rosie Quality
One thing is for sure, Tantaly's Rosie has pristine quality. One can determine the quality of Rosie solely by touching its skin. It does not feel realistic, but it feels great regardless. The Rosie is also quite sturdy.
Tantaly Rosie Packaging
If you are looking for a fancy unboxing video that will provide some razzle dazzle, your expectations are too high for purchasing from Tantaly. The Rosie's box is pretty standard, which is not a bad thing. I appreciate the minimalist approach. The Rosie's box is a representation of the brand, meaning it is very sexy. There is an image of the toy on one side and Tantaly's logo on the other. The side panels provide information on how to use the Rosie and toy-specific information like weight and materials.
If you've thought things out and specifically want a torso sex doll vagina, you'll be really likely to enjoy yourself. The sensations do feel MUCH more realistic when you're using this torso sex doll than when you're just humping a Fleshlight snuggled between the couch cushions. Especially if you're someone who's really looking to practice your thrusting for a better time with a future partner, you really need something like the Rosie sex doll instead of the handheld stroker. The realistic view partnered with the realistic sex doll angles will offer a whole lot more real-life practice than a hand-held stroker does.
If you don't have the cash to buy a full-size tantaly sex doll or the space to store it, then hell yeah! She might seem a bit weird to the eye, being just a torso without the head and limbs, but she is definitely a fuckable alternative. She is a stand-alone bubble butt with a tight and welcoming anus and vaginal cavities that feel like the real thing with the inner tunnel design that uses lots of bumps and ridges.
Tantaly Rosie Materials and care
Tantaly's Rosie has a gelatinous feel. It is relatively heavy, but the weight has its advantages. When it comes to using the Rosie and caring for it, it is recommended that you use a water-based lube. Additionally, the toy is easy to clean. Soap and water can easily clean the outer parts of the doll; however, cleaning the inner parts may require work. Tantaly provides cleaning supplies to assist with the inner cleaning on their website. If you choose to clean by hand, that is 100% possible. An added benefit is that the Rosie comes with a water-absorbent stick.
Specifications and features Tantaly Rosie
Height 9.7 inches
Width 40.9 inches
Openings Vagina and anus
Insertable length Vagina: 5.98 inches, Anus: 5.12 inches
Diameter (internal) Vagina: 0.8 inches, Anus: 0.28 inches
Weight 31 lbs
Materials TPE
Waterproof Yes
Storage Bag Included Yes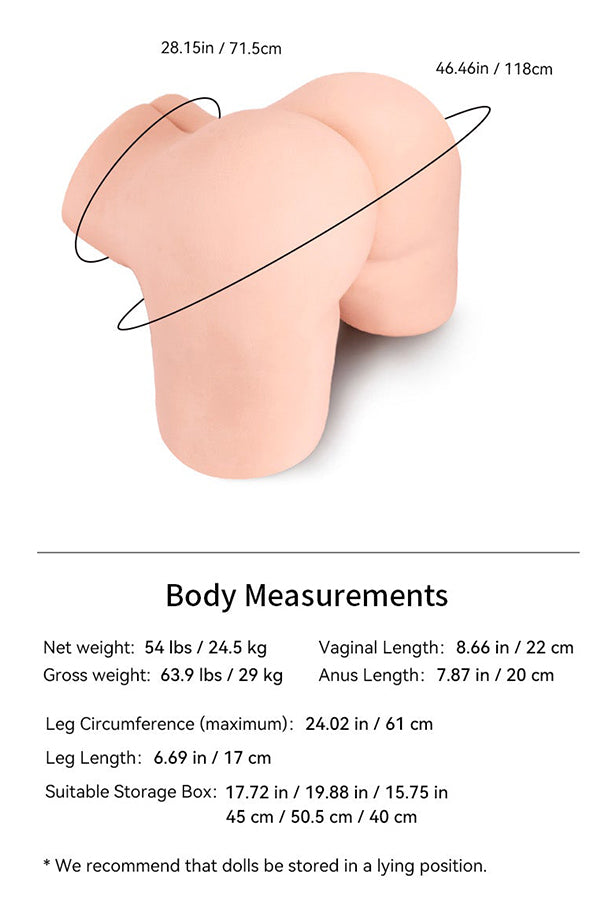 Overall, Tantaly's Rosie partial doll is an excellent toy. Regardless if you are a beginner, an expert, or someone who needs extra practice in sex, the Rosie is worth having in your collection of toys. Though there is not much diversity in skin tones, Rosie will get the job done. The toy has bounce. It has firmness and a smooth feel. It is pretty realistic. The Rosie is worth it!