Do You Want a Full-Size Sex Doll like the Tantaly Monica
Tantaly Monica is like an ode to the fans of BBW sex dolls – her booty and breasts are even larger than those of Britney. And, better believe that this body looks fantastic in lingerie. In fact, if you are going with this doll, I would suggest purchasing a set of lingerie for the first time. Dress her up before having fun with her for the first time. It will make your first time more interesting and intense.
Oh, and while we are on the subject of intensity – both the vaginal and anal tunnels of Monica are quite…ermm, adventurous. There are several texture variations in both of them. And, the nubs and ridges also vary in size. The result? A rather unique yet great penetration experience. Tantaly Monica costs slightly more than Britney, but you will still not go over $500.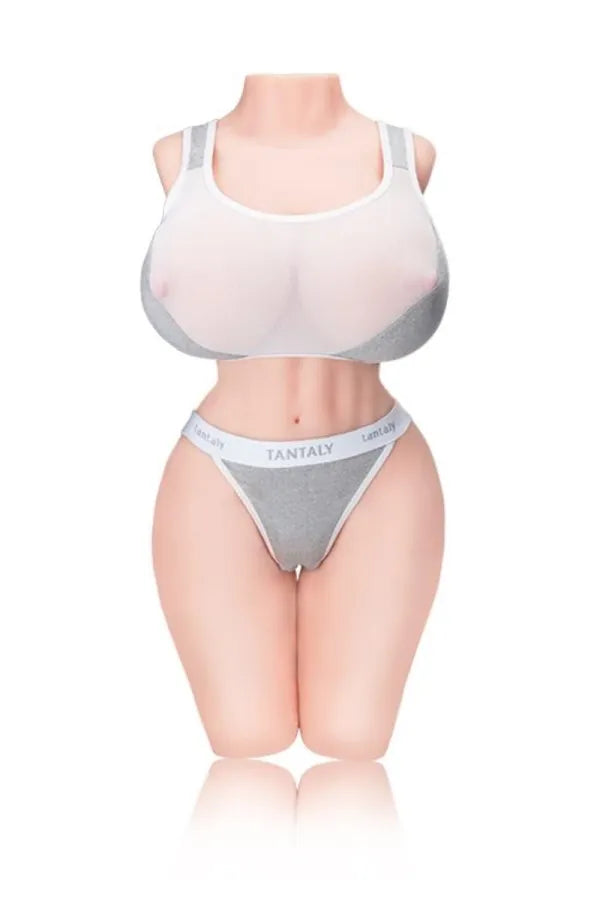 Monica's Breasts are Amazing
There is one area where Monica is hands down a more realistic sex doll. Her tits. Monica has dual-density breasts so her breast is a different feel than the rest of her body. I believe it's a silicone implant but regardless of the technology, the result is a very natural feeling, although still unrealistically large breast. Even the nipples have added detail and length and can be nibbled and pulled like a real nipple (just be careful not to tear them). These breasts alone can provide hours of entertainment.
Monic's Waist is Very Skinny
Monroe's waist is a more realistic size
Regardless of the Model, Tantaly Makes Quality Sex Dolls
Her breasts are incredibly realistic in feel and heroic in size. Her outer vagina area is a realistically darker tone and her internal tunnels are unique like those of a woman. Where she lacks realism, is only in the areas where Tantaly has decided to make her more Anime than real.
All Tantaly dolls have realistic internal canals but they do vary somewhat in feel because Tantaly has created different interior experiences based on the age of each doll. Monica is younger than Monroe and her pussy and ass are both a bit tighter. Monroe, on the other hand, is based on a woman in her late twenties or early thirties. With that in mind, her vagina is fuller. Everyone will have their own preferred
Monica Canals
Notice too how Monica and Monroe's pussy opens up for you the wider she spreads her legs. This is very natural and realistic and can also be used to create a tighter or looser initial penetration point based on your desire.
Honestly, the warming rod is a must-buy addition. Not only does it work great for bringing your sex doll's pussy and ass up to a normal internal body temp (simply insert the rod and wait a few minutes) but it can also work well to warm up other sex toys (cock sleeves or sheaths, strokers, Fleshlights, etc.).
Sex Doll Skeleton and Skin
Monica and Monroe have similar, if not the same skeletons which allows them to be posed in your desired sex position. They both hold nicely in their positions and the legs can be moved up toward the chest as well as out to expose the vagina. The torso can also flex forward or back so she can arch her chest out, and she can even twist the torso from side to side. These hinges give you all of the sexual positions that a real woman (with no lower legs or arms) could perform. One note on Monica is that her skeletal joints seem to be much more rigid than Monroe's, which makes her more difficult to pose but also holds her very firmly in position (this also might be particular to my specific doll so this is something you could check with Tantaly about).
Monica's tunnels are not better than Monroe's or vice-versa, they are just different (see description of tunnels above). Both have real-feel medical-grade TPE skin and both move and jiggle around you in a very realistic way. Monica definitely has the slightly more realistic feeling of breasts but having said that, Monroe's feel really good too.
Recommendation: If money is no object and you're looking for a quality life-size torso sex doll, Monroe is an excellent choice. However, for about $400 less, you can get Monica, with her realistic-feeling breasts and lighter weight.
Key Attributes: Monica is 41lbs with leg length just above the knee. Adjustable internal skeleton for back sway, and hip/leg positioning. Well-crafted age-appropriate anal and vaginal channels. Dual-density breasts.