How Good Is This Britney Tantaly Sex Doll Torso?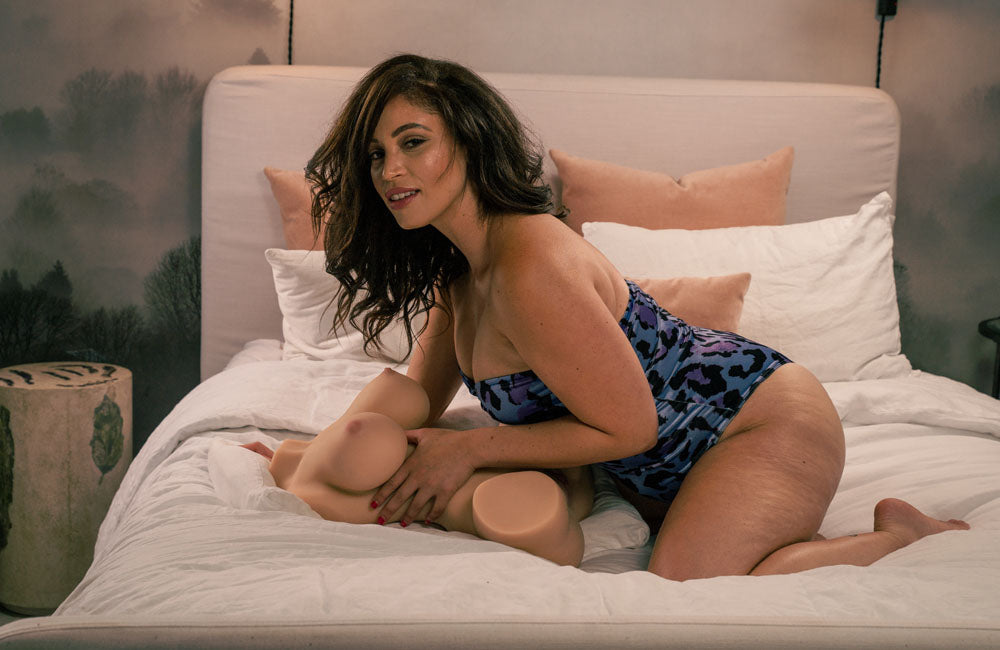 If you are looking for an extremely beautiful sex doll with artistic craftsmanship, Britney by Tantaly is undoubtedly one of your best choices. While it's not quite life-size, it's big enough for most people, weighing in at 29 pounds. What sets it apart from many other sex dolls is its impressively large, lifelike breasts (made from medical-grade silicone fusion). Another unique thing about Britney is the texture and passage of her vaginal and anal holes, both of which are absolutely stunning and far superior to any handheld fleshlight or stroker.
What is Tantaly Britney?
Tantaly Britney is a realistic sex doll torso with vaginal and anal openings (and perfect breasts) that helps recreate a personal, intimate quality you wouldn't normally get with sleeves alone. This lifelike torso doll features realistic 32B cup breasts that will have you mesmerized by the way they bounce. This doll is perfect for those who are looking for their first sex doll; it's smaller than life size but has enough weight to feel great while you're busy with her.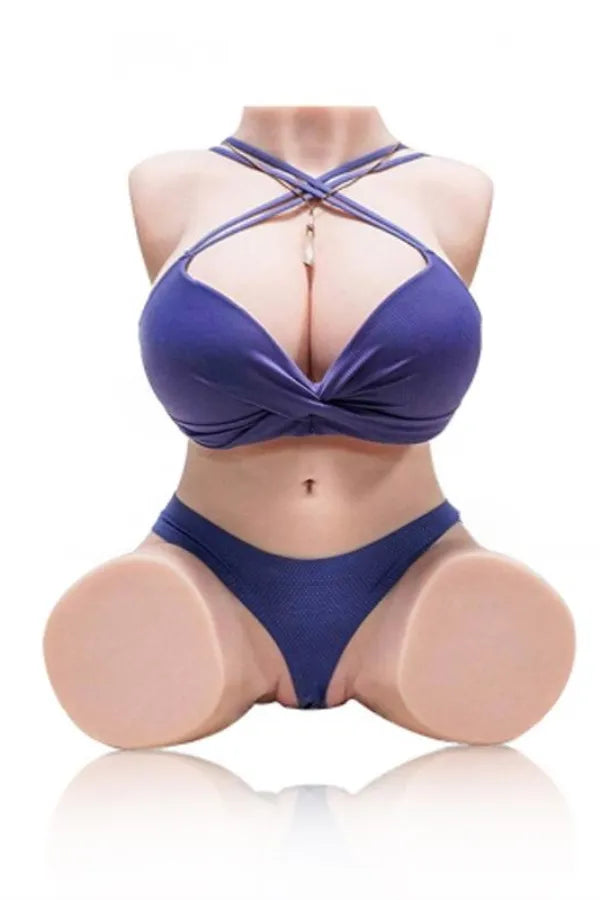 About Tantaly
Tantaly is a California-based company that specializes in sex doll torsos. The founders wanted a high-quality product that was easy to operate but allowed users to slap their butt or squeeze their breasts in a sensation that was as close to reality as possible. Tantaly has accomplished what they set out to do, and they offer lubes, cleaners, accessories, and even clothing to suit both user and product needs.
Specification
Material: TPE (thermoplastic elastomer)/silicone (chest only)
Net weight: 28.6 pounds
Opening: vagina, anus
Vagina length: 7 inches
Anal length: 6.22 inches
Waterproof: Yes
Waist: 18.9 inches
Upper bust: 29.53 inches
Underbust: 20.07 inches
Bust: 32C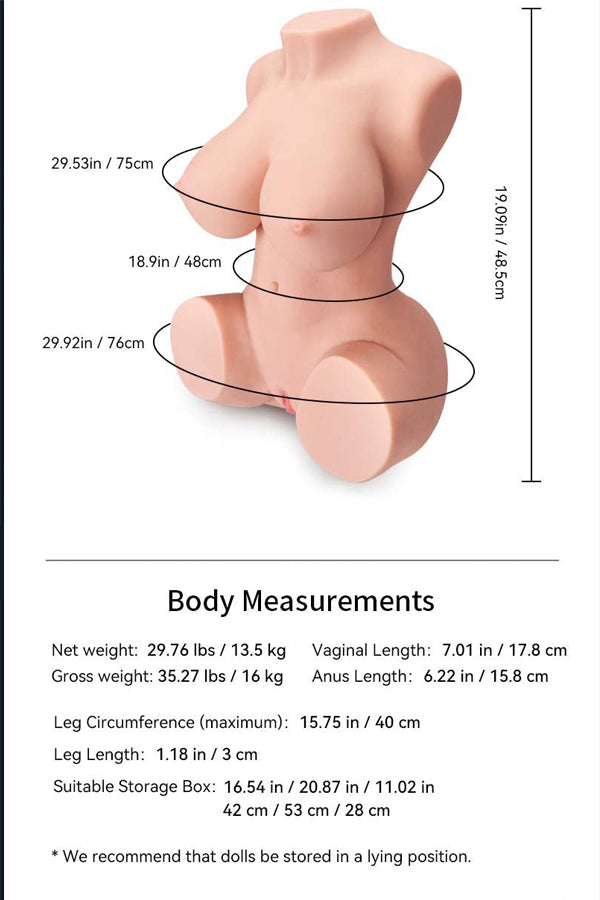 Britney sex doll skin feel
Let's face it, having sex with a sex doll is not the same as having sex with a real person. The feel of real skin is hard to imitate. That being said, Britney's body is made from high-quality medical-grade TPE, which is soft on the outside and hard on the inside for a natural feel. The internal skeleton allows you to bend her torso forward or backward (arching or arching the back) to accommodate different positions, which greatly increases the true rigidity of the sex doll.
Britney's vagina is very realistic and feels very close to a real vagina, even realistic enough that simply touching Britney with your fingers while touching yourself can induce sexual arousal. The butt feels great too and the design is very realistic.
If you've been thinking about getting a sex doll and have a budget of between $300 and $400, Britney by Tantaly is definitely a great option. At the current price, I actually think it's a great value.
Key Attributes: Weighs 29 pounds and is nearly life-size, with large realistic silicone-filled breasts and elaborate anal and vaginal passages.
Similar Products: A fleshlight or other handheld stroker can give a somewhat similar feel, but a doll like Britney is a truly immersive experience.
Pros: Very realistic vaginal canal and super realistic large breasts. Quality construction and attention to detail.
How to use Tantaly Britney?
There are three incredible ways to use this little jitter toy. Two orifices: vagina and anus, or classic titjob. But remember, before use; wash your new girl thoroughly with toy cleaner.
Like any real girl, sometimes you need some lube to help, and Britney is no exception. Grab your favorite water-based lube, apply it liberally (especially anally), and then do whatever you want with her, fast or slow.
Pro tip: It's a good idea to lay a towel under your doll to prevent unwanted liquids from seeping into the sheets, especially when enjoying Britney's rack. And use props like pillows to keep the doll at the perfect height for any movement you want.
Tantaly Britney is beautifully made, with light pink nipples and a delicate vaginal opening, and her body curves are beautiful and plump. The doll is soft and has a decent amount of wiggle when you pump. When you place her in a puppy, her breasts will squeeze and spread out, just like natural breasts.
Tantaly used phthalate-free TPE and silicone on Britney. TPE is the standard material for sex dolls and feels very lifelike to the touch. Britney's breasts are made of silicone, just like the implants, and are soft and pleasant. Just like implants, you'll want to curb your excitement as too much pressure could damage your breasts.
Tantaly uses high-end materials to produce quality products. Britney is soft and firm in all the right places, with a slight roughness that feels very close to the real thing. The Tantaly Britney doll is so easy to use, all it takes is some water-based lube and an erection. And she's light enough to handle easily without feeling too fake or toy-like. I found myself again propping Britney up with pillows for maximum enjoyment, and her huge breasts provided great grip as I thrust hard from behind.
Tantaly Britney is a quality product. period. It's priced higher, but that's a given. It's built around a core frame that can be positioned, then contains over 25 pounds (29 pounds total weight minus frame weight) of medical-grade TPE and breasts with medical-grade silicone for a very realistic feel. Tantaly Britney's doggy style position fully supports anyone considering purchasing this doll. Tantaly Britney has a beautifully realistic feel that makes her ass and boobs bounce when you enjoy her well-designed anal or vaginal cover. This is a great first sex doll for those who want to move away from basic male masturbators or sleeves.
Who should give it a try? If you want to upgrade your masturbation experience from basic sleeves and want a more natural feel, get the Tantaly Britney. For those who might need a little extra help with their imagination when masturbating, this realistic feeling doll with a soft ass and breasts will help make those fantasies come true. Who can skip it? Those who don't have storage space, can't lift 30 pounds, need something a little discreet, or don't like to put in a lot of cleaning effort can admire it, but not touch it. This doll is not for those new to sex toys unless you are already very confident using toys of a similar size.
Tantaly offers different sleeve textures for the vagina and anus to keep the experience unique depending on which orifice you're using. Let's explore what they look and feel like:
Tantaly put some design effort into the vaginal sleeve, which has a tight-fitting opening that leads to the first chamber, which is roomier and has some bulges on the outside. As you push deeper into the sleeve you get a tighter twisting feel than the first chamber, and there are rounded ridges around the section that make it easy to stay in and edge out for a long time. The next area feels like a bump pushing you more into the sleeve and the area is very tight and covered with more small bumps. Pushing at just the right depth, hitting that perfect sensitive spot at the top of my penis between the head and shaft, gets me ready for orgasm every time. Go deeper and the last part has some spiral ridges that stimulate the head of your cock. It's great to control the depth of my thrusts to feel different areas of this sleeve and change the feel quickly.
Anyone who's ever tried anal sex knows that it's a tighter fit that requires more pressure to get into the opening, and Tantaly does an excellent job of replicating this action. Once the anal sleeve is pushed in, it greets you with a more prominent ridge and a wider first chamber. The ridges slope towards the top of the doll and feel great when pulled back after a push. Looking deeper, the anal sleeve has a large bulge that puts a lot of pressure on the top of your penis, giving you even more stimulation if you focus on the head.
This girl's sweet ass has a lot to give. The two deeper chambers have humps and ridges as well as some narrower openings that separate these chambers. I insist on keeping it a little shallow in this sleeve; the tightness of the anal opening on my penis and the pressure bump on the head feel more like actual anal sex.
Tantaly·Britney's touch is very real and has just the right curves. All the right sounds are being made, from skin-to-skin slapping sounds to the occasional love fart. The torso can flex and move to any position and has just the right amount of weight to feel like a woman. Tantaly Britney is petite but has excellent weight proportions, and the two openings and sleeves allow you to change the position of the model. You can move, bend, slap, and grab Tantaly Britney to any position you want. The ability to dress her up and play out your fantasies also ticks all the checkmarks in the usage range. You can even take her to the bath!
Additionally, the Britney doll is made with a metal frame that provides realistic spine and pelvic feel. Tantaly Britney has a beautiful natural feel that makes her ass and boobs bounce when you enjoy a well-designed anal or vaginal cover. This product is a great first sex doll for those who want to move away from masturbators or sleeves. She's easy to move and store as long as you have room for her.
advantage
Bouncy, realistic boobs and butt
You can dress her.
The weight is perfect for her figure
real feeling