Exploring Torso Sex Dolls Women with the Biggest Boobs the Largest Breasted Love Doll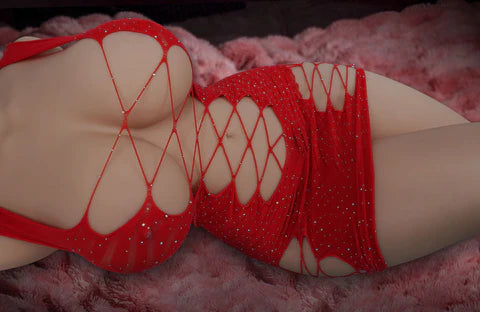 Are you a fan of large breasts? Well, get ready for something even bigger! We are thrilled to present the sex doll women with the biggest boobs of your dreams - the model that everyone has been waiting for!
We offer a wide range of dolls with big breasts, but there are always those who desire something even more substantial. Look no further, because this doll boasts the largest breast size we have ever seen on a realistic silicone/TPE doll.
These massive breasts will drive you wild. Made from high-quality TPE, they are soft and jiggly, just the way you like it. Watch the video below to see for yourself!
This doll is made from solid yet soft TPE, with an articulated metal skeleton that allows you to position her however you desire. Fulfill your fantasies with this goddess, who has joined our team. To celebrate her arrival, we are offering a special sale price of only $499.99.
If these breasts are too much for you, don't worry - we have a variety of other big-breasted models available. Check out our collection of Big Boobs Sex Doll for more options.
What Are Big Boobs Sex Dolls?
In the realm of adult products, big boobs sex dolls are a type of sex doll that boasts a larger breast size. These dolls are crafted to resemble human figures and are intended for sexual purposes. They are available in a variety of body types, including those with ample bosoms. Constructed from materials such as silicone or TPE (thermoplastic elastomer), these dolls are designed to replicate the look and feel of human skin.
For those who prefer a more voluptuous sex doll, the big boob sex doll is an ideal choice. These dolls cater to the desires of men who appreciate the aesthetic and tactile qualities of a substantial bust. With breasts that are often quite sizable, these dolls are engineered to provide a realistic and satisfying experience. Their movements are natural and not overly exaggerated, ensuring a lifelike encounter.
What Is the Best Material for a Big Boobs Sex Doll?
The choice of material for a sex doll's breast size primarily depends on your personal preferences and priorities. The two most common materials used for sex dolls are silicone and TPE (Thermoplastic Elastomer). Both materials have their own advantages and considerations when it comes to creating a sex doll with larger breasts:
1. Silicone Sex Dolls:
- Realistic Feel: Silicone has a firmer and more solid feel compared to TPE, which some users find more realistic, especially when it comes to larger breasts.
- Durable: Silicone is less porous and more resistant to tears and damage, which can be a benefit for dolls with bigger breasts that may be more prone to sagging.
- Easy to Clean: Silicone is easy to clean and maintain, making it a good choice for those who prioritize hygiene.
2. TPE Sex Dolls:
- Soft and Lifelike: TPE is known for its soft and skin-like texture, which many users find incredibly lifelike and enjoyable.
- Natural Movement: TPE has better flexibility, allowing for more natural movement, which can be important for realistic breast play.
- Warmer to Touch: TPE tends to be warmer to the touch, which some users find more comfortable and sensual.
When it comes to choosing the best material for a sex doll with bigger breasts, it's crucial to consider what aspects matter most to you. You may also want to look for dolls with internal skeletal structures that provide support to the breasts, reducing the risk of sagging over time.
Remember that your choice should prioritize your own comfort and pleasure, as well as the maintenance and care you're willing to provide. Always ensure you purchase from a reputable seller and consider your budget, as larger silicone or TPE breast sizes may affect the overall cost of the doll.
Introducing the Monica Sex Doll Torso - A Must-Have for Those Seeking Ultimate Pleasure and Satisfaction
With discreet shipping and billing, price matching, and FREE shipping, this is an opportunity you don't want to miss.
The first thing that will captivate you about the Tantaly Monica Sex Doll Torso is its lifelike, jiggling, and curvy breasts. Crafted from high-quality TPE material, they provide a realistic weighted feel that will leave you delighted. Additionally, this sex doll features thighs that can be spread open, revealing enticing openings ready to accommodate your desires.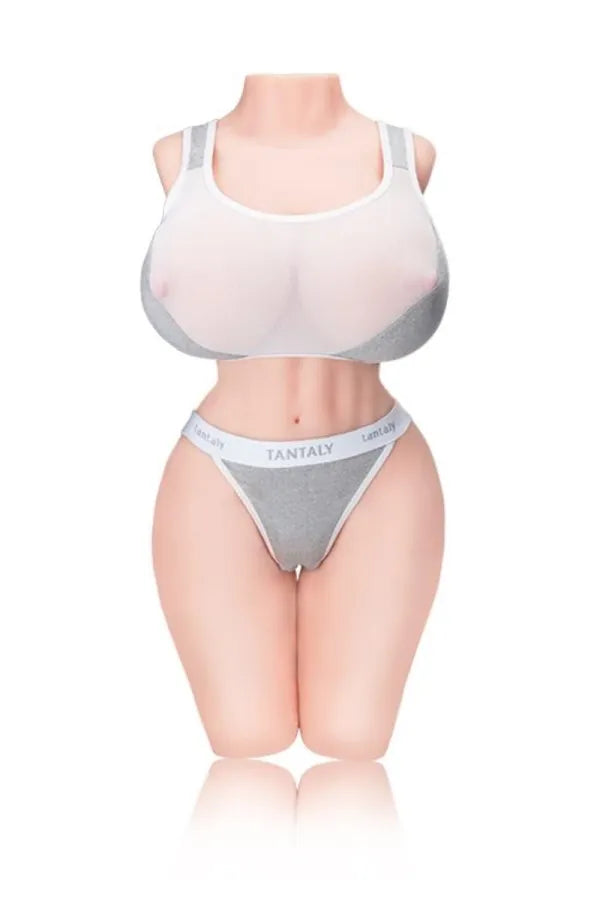 Designed for convenience, the Monica Sex Doll Torso is small and easy to use. Simply pick her up and indulge in pleasure whenever and however you desire.
Experience the advanced features of this remarkable sex doll. The vibrations are both powerful and quiet, ensuring a pleasurable experience without any distractions. The Monica Sex Doll Torso is neither buzzy nor rumbly, providing a unique sensation that will leave you craving for more.
If you love big, jiggling breasts, enjoy lifelike fleshy movements, and prefer a smaller sex doll, then the Monica Sex Doll is the perfect choice for you. However, if you prefer full-bodied sex dolls, silicone over TPE, or desire an even curvier toy, this may not be the right fit for you.
Let's take a closer look at the features of the Monica Sex Doll Torso. Made from high-quality TPE material, this doll stands at a height of 24 inches and weighs 41.13 lbs. It features both a vagina and butt opening, with insertable lengths of 6.29 inches for both. The width of the vagina is 0.6 inches, while the butt measures 0.2 inches. Rest assured, this doll is waterproof, adding to its versatility.
Now, let's explore the pros and cons of the Monica Sex Doll Torso. On the positive side, it boasts amazingly curvy breasts, is small and easy to use, and is made of soft and smooth TPE material. However, it may be too tiny for some individuals and lacks arms, legs, and a head.
In conclusion, the Monica Sex Doll Torso is an excellent choice for beginners venturing into the world of sex toys. It offers a range of desirable features, including realistic breasts, textured openings, and a reasonable price point. However, due to its smaller size, it may not be suitable for those seeking a more realistic experience or individuals with prior experience. Nonetheless, the Monica Sex Doll Torso performs exceptionally well and provides a pleasurable experience. The Monica Sex Doll Torso offers an unforgettable experience with its lifelike features and advanced functionalities. Don't miss out on the opportunity to indulge in ultimate pleasure and satisfaction.
Why Choose a Sexy Real Sex Doll?
Sex dolls have been around for a long time, but many people still feel ashamed or hesitant to inquire about them. However, the reality is that sex dolls are becoming increasingly popular and accepted in modern society. With advancements in technology, manufacturers are creating incredibly realistic dolls, and we can expect to see even more lifelike dolls with artificial intelligence in the future.
International news and online articles are filled with stories of men forming special relationships with realistic sex dolls. The truth is, sex dolls can bring many benefits to single individuals, couples, and even photographers or artists. They provide a safe and fulfilling outlet for fantasies and can spice up relationships without causing harm.
At Sexy Real Sex Dolls, we believe in the use of real sex dolls and strive to provide you with the best silicone and TPE dolls to make your dreams come true. If you can't find what you're looking for in our collections, let us know, and we will help you find your dream doll.
Why Choose Us?
We Tantaly offer the best selection of affordable and high-quality realistic sex dolls. How do we achieve this? By partnering with top manufacturers in China, we can bring you the best models, prices, and customization options. Whether you're interested in TPE, silicone, mini dolls, or life-sized dolls, we are your best choice. Our team is dedicated to ensuring the best customer experience and finding the doll that suits your needs.
We also offer free shipping to most countries, including the USA, Canada, and Europe. Your privacy is important to us, so we ensure discreet packaging with no labeling that reveals the contents. You will receive a tracking number once your doll is shipped, and we use trusted shipping carriers to guarantee a safe and timely delivery.
Your payments are secure with us. We prioritize customer privacy and do not store credit card information. We use PayPal to protect your credit card information and ensure secure payments.
TPE vs. Silicone Sex Dolls
Both TPE and silicone are excellent materials that provide a realistic skin-like feel. TPE has gained popularity due to its ease of sculpting, resulting in incredibly sexy and realistic models. Silicone is also great, offering a cleaner feel and the ability to retain heat for longer periods. We even offer heat systems for our silicone dolls.
All our dolls feature a flexible and fully articulated skeleton, allowing you to position them in any way you desire. They have been sculpted by experienced artists to provide a realistic sexual experience. Both TPE and silicone dolls are waterproof.
Can I Use Silicone Lube with My Big Boobs Sex Dolls Torso?
Yes, you can use silicone-based lubricants with your sex doll, including those with larger breasts, but there are some important considerations to keep in mind:
1. Compatibility: Silicone lubricants are generally safe to use with silicone-based sex dolls. However, there is a possibility of a chemical reaction if the silicone lube is of low quality or contains certain additives. To be safe, it's a good idea to test a small amount of the lubricant on a less visible area of your doll's body to ensure there's no adverse reaction.
2. Cleanup: Silicone lube tends to be longer-lasting and requires less reapplication than water-based lubes. However, it can be a bit more challenging to clean up. Make sure to thoroughly clean your doll after use to remove any residue, as silicone lube can leave a slick or oily film on the doll's skin.
3. Staining: Be cautious of staining, especially if your sex doll has lighter skin. Some silicone lubes can leave stains on the doll's material, so it's a good practice to use a small amount at first and clean it promptly after use to check for any potential staining.
4. Storage: Avoid prolonged exposure to silicone lubricant on your doll's skin when not in use. It's best to thoroughly clean and dry your doll before storage to prevent any potential damage or degradation of the material.
Always use a high-quality silicone-based lubricant, and if you have any concerns about compatibility or potential reactions, consider using a water-based lubricant instead, as they are generally safe for use with sex dolls and easier to clean. Proper care and maintenance will help ensure the longevity of your sex doll, regardless of the lubricant you choose to use.
How Long Will My Big Boobs Sex Doll Last?
How long will my big-boobed sex doll last? Well, it really depends on a few things. First off, the quality of the doll makes a big difference. If you splurge on a high-quality doll made from top-notch materials like silicone or TPE, it's likely to last longer than a cheap knockoff.
Taking care of your doll is also super important. Regular cleaning, storing it in a cool and dry place, and keeping it away from extreme temperatures and direct sunlight will help extend its lifespan. Each manufacturer usually provides specific care instructions, so make sure to follow them.
How often you use your doll also plays a role. If you're using it like crazy, it's bound to wear out faster. So, if you want it to last longer, try to use it gently and not too frequently.
When you're not using your doll, make sure to store it lying down with its limbs slightly apart. This will prevent any pressure marks or distortion of the material.
Using a water-based lubricant during playtime can also help reduce friction and potential damage to the doll's skin.
If your doll does get a little worn out, don't worry. Minor repairs can usually be done with the right tools and materials. Some manufacturers even offer repair services or replacement parts.
Keep in mind that other factors like the doll's weight, the type of clothing or accessories you use, and how well you follow care instructions can also affect its lifespan.
It's hard to give an exact timeframe for how long your doll will last because it really depends on all these factors. But with proper care and maintenance, a high-quality doll could easily last you several years or even longer.
If you're still unsure about how to take care of your specific doll, it's always a good idea to reach out to the manufacturer or retailer for some guidance and specific care recommendations.
The Benefits of Owning a Realistic Sex Doll Torso
Like other sex toys, realistic love dolls offer numerous benefits. They provide sexual release and companionship. Many customers also use sex dolls for photography, fashion, and modeling. Couples can use sex dolls to add excitement to their relationships. Your first experience with a love doll will be unique, and she will always be there for you. Love dolls are great companions who will listen and be loyal to you. They can also help you fulfill those sexual adventures you've been dreaming of.
How to Use Big Boobs Sex Dolls Torso
So, you've got yourself a big boobs sex doll and you're ready to have some fun. We get it, they can be a bit tricky to use, but don't worry, we've got your back! Here are a few tips to help you make the most of your busty babe!
First things first, check what kind of lube you're using. You can't just use any old lube with your sex doll, it could actually damage her! Stick to water-based lubes or check the user manual for the manufacturer's recommendations. Safety first, folks!
Once you've got the right lube, go ahead and generously apply it to both your doll's holes and your own little buddy. The wetter, the better! No one wants any uncomfortable friction burns ruining the mood, right?
Now that you're all lubed up, it's time to have some fun! Let your imagination run wild and fulfill all your big boob fantasies. Just remember to keep it safe and clean up afterwards. Nobody likes a messy bedroom!
Speaking of cleaning, it's super important to keep your big boobs sex doll nice and clean. Trust us, things can get messy! Depending on the material of your doll, you might be able to remove the inner sleeves for easier cleaning. If not, no worries, we've got some handy resources to help you out.
If your doll is made of porous materials like soft plastic, hard plastic, jelly, rubber, or Cyberskin, it's best to use a condom, especially if you're sharing it. Clean these toys with mild soapy water and be gentle to avoid damaging them.
For non-porous materials like silicone, glass, stainless steel, and some hard plastics, you can wash them with mild soap and warm water. Just be careful if your toy has electrical parts. And if it's silicone or stainless steel without electrical parts, you can even boil them for sterilization!
Now, if your toy has electrical components, be extra cautious when cleaning. Always follow the instructions provided with the toy. Use a gentle cloth with soap or a sex toy cleaner to wipe it down, making sure to keep water away from the electrical parts.
So there you have it, folks! A guide to using and cleaning your big boobs sex doll. Now go out there and have a blast with your busty beauty!
When purchasing a high-quality love doll, it is important to buy from authorized and legitimate sellers like us.