Monroe Tantaly - A Full-Sized & Incredibly Realistic Torso Doll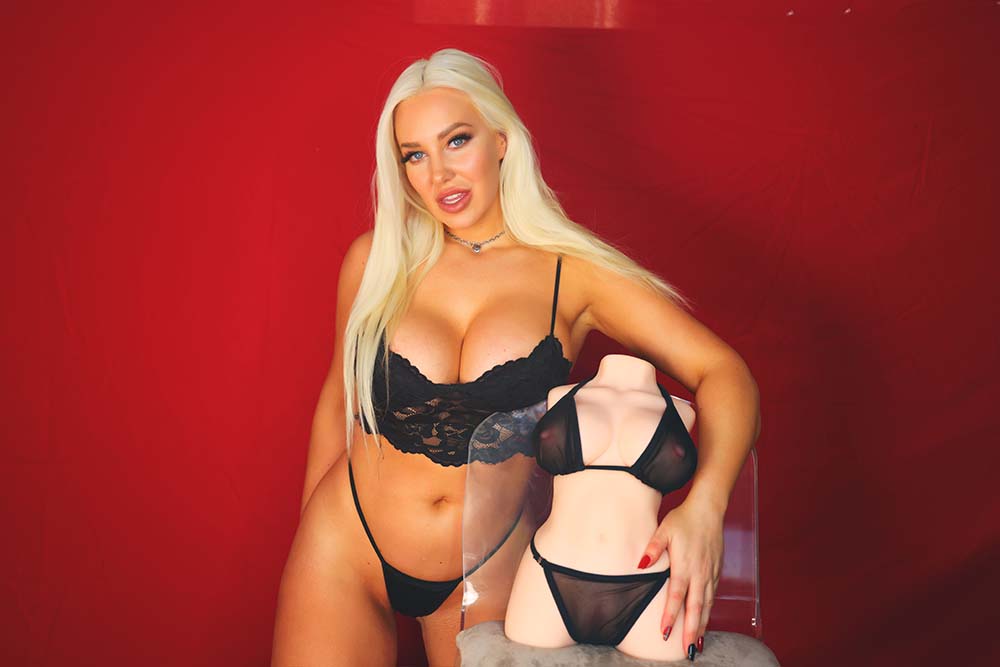 In a recent review, we explored the world of torso sex dolls with the petite Britney. However, some found Britney's size a bit too small to provide a completely authentic experience. Responding to this feedback, Tantaly introduced Monroe, their largest torso sex doll to date. Monroe, weighing in at a substantial 68 lbs, offers a fuller figure and extended legs for enhanced doggy style positioning. Much like Britney, Monroe boasts meticulous craftsmanship, but with a life-size quality that truly immerses you in realism. And that realism doesn't stop at her exterior; even Monroe's internal passages are naturally contoured to replicate genuine vaginal and anal canals.
Unboxing the Realistic Monroe by Tantaly
Upon receiving the discreet brown box, the weight immediately hinted at Monroe's life-size dimensions. Despite being a torso doll without a head or lower legs, Monroe's 68 lbs are quite substantial. While the initial lift onto the bed proved slightly cumbersome, it's essential to remember that her weight becomes less of an issue during use. Monroe's beauty is striking, both in emulating an idealized female figure and in the meticulous attention to detail. Her skin texture, from her nipples to her overall skin quality, looks and feels remarkably natural, all achieved with medical-grade TPE material.
A Closer Look at Monroe's Anatomy
Monroe's vaginal canal and anal canal are designed to simulate the physical characteristics of a woman in her late twenties to early thirties. This attention to detail ensures that Monroe's intimate areas are both anatomically accurate and incredibly lifelike. The nuanced differences in her design compared to other Tantaly dolls reflect variations in the age of each doll. Monroe's older, more mature aesthetic provides a unique experience, appealing to those who appreciate such subtleties.
First Encounters with Monroe
Following the photoshoot, it was time for some intimate fun with Monroe. With her legs spread and properly lubricated after the photoshoot, the transition to penetration felt realistic and effortless. Monroe's anatomically accurate design truly shone during these moments. The warming rod, a worthwhile addition, not only brings her internal passages to a more natural body temperature but can also be used to warm other sex toys.
Tantaly Monroe accommodated various positions, with the added benefit of Mimi's involvement. Watching her interact with Monroe was an enticing experience, allowing for alluring fantasies. Monroe's back sway, adjustable hip tilt, and leg movements facilitate a range of positions for a diverse and satisfying encounter.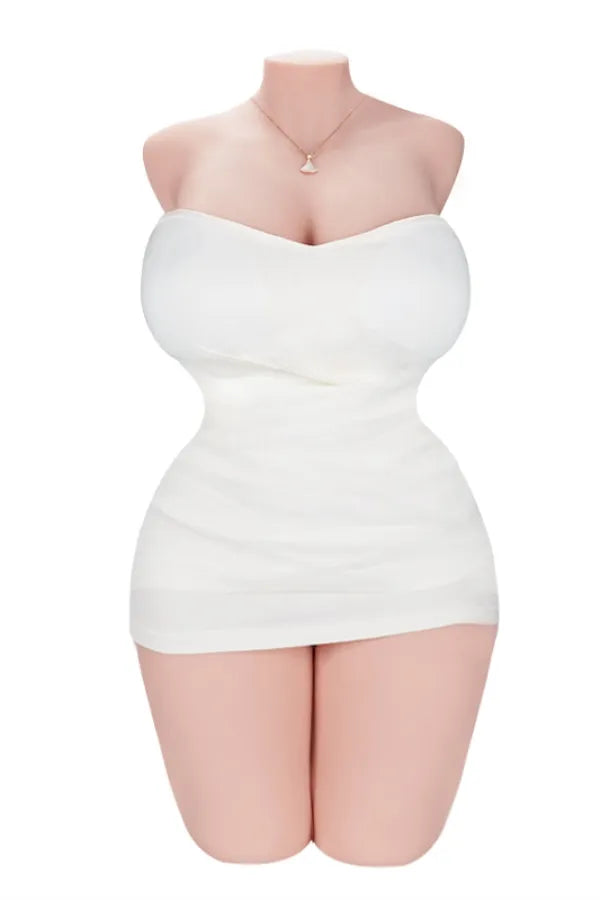 Monroe's Skeleton and Skin
Monroe's skin texture, similar to Britney's, feels remarkably realistic due to the high-quality medical-grade TPE material. Her poseable frame lets her maintain rigid positions while offering a soft, lifelike touch. While Britney's silicone-enhanced breasts may feel slightly more realistic than Monroe's all-TPE breasts, Monroe still offers a highly enjoyable tactile experience.
The Sensation of Monroe's Intimate Areas
In comparison to handheld masturbators like Fleshlights, these sex dolls offer a vastly superior experience. This heightened realism is attributed to their faithful replication of female anatomy and the soft, flexible TPE material that surrounds both canals. Monroe's vaginal canal, in particular, replicates a woman in her late twenties to early thirties. This level of maturity, combined with Monroe's anatomical precision, adds to the authenticity and pleasure of the experience.
To Buy or Not to Buy: A Summary
Recommendation: If you're seeking a quality, life-size torso sex doll and price isn't a concern, Monroe is an excellent choice. However, if you're new to sex dolls and uncertain about your preferences, it's advisable to start with a smaller version to explore your desires before investing in a life-size doll.
Key Attributes: Monroe is life-size, weighing 68 lbs, with legs extending just above the knee. She features an adjustable internal skeletal structure that allows for back sway, hip/leg positioning, and well-crafted age-appropriate anal and vaginal channels.
Comparable Products: Tantaly offers some of the best torso sex dolls, but there are various options to explore based on your preferences and budget.
Value: High-quality medical-grade TPE sex dolls come at a price. A life-size torso doll under $1,000 provides an affordable yet incredibly realistic experience.
Pros: Monroe is a full-sized torso doll with an exceptionally realistic vaginal canal. The craftsmanship and attention to detail are impressive.
Cons: Monroe's breasts are made entirely of TPE, and she is relatively heavy at 68 lbs. While the weight adds to the realism, it might be a matter of personal preference.
Size and Weight Considerations
Monroe's true-to-life dimensions, including her fuller figure, result in a weight of just over 68 lbs. It's essential to be aware of this weight when purchasing a sex doll, as the choice to opt for a life-size torso doll with a more substantial build impacts its weight. Over time, users tend to adapt to the weight, and it primarily affects repositioning rather than the actual experience.
Positioning Monroe by Tantaly
Moving and positioning Monroe can be challenging due to her size and weight. However, once in the desired position, the experience becomes exceptionally realistic. Monroe is best suited for positions that don't require frequent adjustments to her weight. This makes missionary or doggy style positions ideal, as they don't necessitate constantly lifting her. Monroe's extended legs allow for more diverse positions, enhancing the doggy style experience, which is not achievable with shorter-legged dolls.
Monroe's Leg Length: Pros and Cons
Monroe's longer leg length provides several advantages. It enables lifelike knee-based positions, such as doggy style, where the woman's hips require elevation. The visuals provided by these extended legs enhance the experience. Monroe's adjustable hip and leg movements, along with back sway adjustments, allow for a wide range of positions. However, these benefits come with added weight and minor complications when making adjustments during intercourse. The extra weight, although unavoidable, enhances the realism and makes you feel like you're with a real person.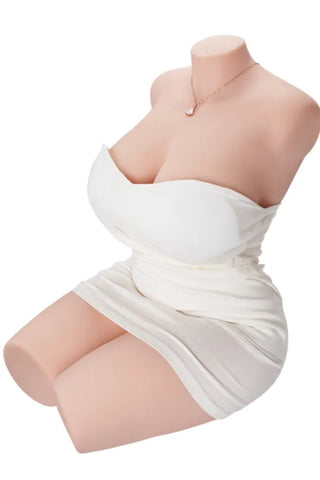 Dressing Monroe by Tantaly
Dressing up Monroe turned out to be an unexpectedly enjoyable experience. Collaborating with a partner in selecting outfits added to the excitement. Dressing Monroe is not just a sensual activity; it also contributes to the overall appeal and attraction of the experience.
Monroe's Exquisite Derrière
Monroe's buttocks are a remarkable achievement in terms of shape and realism. If you appreciate a well-rounded and curvaceous derrière, you'll be thoroughly satisfied with Monroe's appearance. There's not much more to say; her pictures speak volumes.
Getting Creative and a Bit Kinky
Exploring Monroe's potential led to some creative ideas. The concept of adapting Monroe's use by incorporating harnesses with dildo attachments or considering transgender options opened up intriguing possibilities. From enhancing anal play to involving a partner in your doll experience, these ideas can provide a more dynamic and varied encounter.
Cleaning Up
Given Monroe's size, cleaning her can be quite a task. However, a quick bath proved to be the most efficient way to ensure she was thoroughly cleaned. Although using a dedicated cleaning kit is not mandatory, it is highly recommended, especially if you intend to ejaculate inside the doll. The kit includes several cleaning tools, drying rods, and a satin pillowcase for storage. Additionally, the heating rod is an invaluable accessory that simplifies warming Monroe's internal passages to body temperature. Just plug it in and insert it into each channel for a few minutes, and you're ready to go. This contributes significantly to the authenticity of the experience.
A Caution on Clothing Dye
When dressing up your sex doll, it's crucial to avoid using dark-colored clothing, especially if it's new and hasn't been thoroughly washed. While it's challenging to predict which clothing dyes might potentially stain Monroe or other medical-grade TPE sex dolls, it's not worth the risk. For the photoshoot, all clothing had been previously worn and washed many times, reducing the risk of dye transfer.
In conclusion, Monroe by Tantaly offers a unique and incredibly realistic experience for those seeking a full-sized torso sex doll. Her attention to detail, high-quality material, and life-like design make her an attractive choice for those willing to invest in such a premium product. However, due to her weight and size, it's crucial to consider your preferences and comfort levels before making a purchase. Monroe's realistic features and adaptability make her a compelling option for those already familiar with the world of sex dolls.