Halloween Discount Extravaganza: Unmissable Holiday Deals from Tantaly
With horror surging and candy-flavored pumpkins appearing in every corner, Halloween is approaching. During this exciting holiday season, Tantaly brings you a unique surprise - a spooky Halloween discount extravaganza! This is an opportunity not to be missed during your 2023 celebrations. Let's explore the best Halloween deals Tantaly Halloween discount extravaganza has to offer and recommend you some of the best products to buy.
Halloween, an annual holiday, attracts people from all over the world and celebrates it in a variety of ways. The holiday has evolved into a grand celebration filled with horror, entertainment, and unique traditions. This article will explore the history and significance of Halloween, introduce traditions and celebrations in different countries, and focus on Tantaly spooky discount extravaganza to help customers make the most of the holiday.
The Origin of Halloween
The history of Halloween can be traced back to the ancient Celtic celebration Samhain, which marked the end of summer and the beginning of winter. With the spread of Christianity, it became intertwined with Christian celebrations and became the eve of the Christian All-Holy Days, that is, the eve of November 1st. This day was called Halloween (All Hallows' Eve), which later evolved into modern Halloween.
Halloween Traditions and Evolution
Over time, Halloween celebrations evolved into a more diverse and interesting holiday. Traditional Halloween customs include wearing various costumes, making jack-o-lanterns, hanging ghost decorations, and playing trick-or-treating. People also like to spend this day watching horror movies, reading scary stories, or going to Halloween parties to celebrate. This festival has transcended religious significance and become a celebration full of joy and entertainment.
Celebrations Around the World
Different countries have their own unique ways of celebrating. In the United States, candy is performed, in the United Kingdom, jack-o'-lanterns and baked apples are a tradition, while in Mexico, people celebrate Day of the Dead to commemorate deceased loved ones. Each country has its own unique traditions, but the common theme is celebrating and honoring the souls that have passed.
Halloween Deals: Tantaly Horror Discount Extravaganza
As Halloween approaches, Tantaly has prepared a feast of devilish holiday discounts for you to ensure you have an unforgettable holiday season. From October 29th to October 31st, all torso dolls on the official website of various sites around the world will enjoy an amazing 15% OFF discount! This is a unique opportunity to add some special fun to your Halloween celebrations.
Why choose Tantaly
Tantaly is a pioneer and leader in the field of sex torso dolls, known for its superior manufacturing processes and industry-leading innovations. Our products are designed to provide the most realistic experience possible, allowing you to fulfill your physical, emotional and sexual needs.
In this special Halloween season, we are proud to present Tantaly's latest collection, which includes a variety of charming sex torso dolls to provide more possibilities for your sexual fantasies. Whether you're a newbie or an experienced user, Tantaly has options for you to suit every preference and need.
Meet Tantaly's star products: Monroe and Monica
Let us first get to know Tantaly's star products: Monroe and Monica. These two sex torso dolls will completely change your understanding of sexual fantasies.
Monroe - the goddess of torso dolls
Monroe is the ultimate sex doll for those who appreciate curvy women. Her plump figure will instantly transport you into a fantasy world. And her huge, soft breasts are so addicting that they leave you mesmerized. Her sexy curves and juicy booty will provide you with endless pleasure, and her perky nipples will definitely turn you on. Monroe is designed to fulfill all your sexual desires and leave you completely satisfied.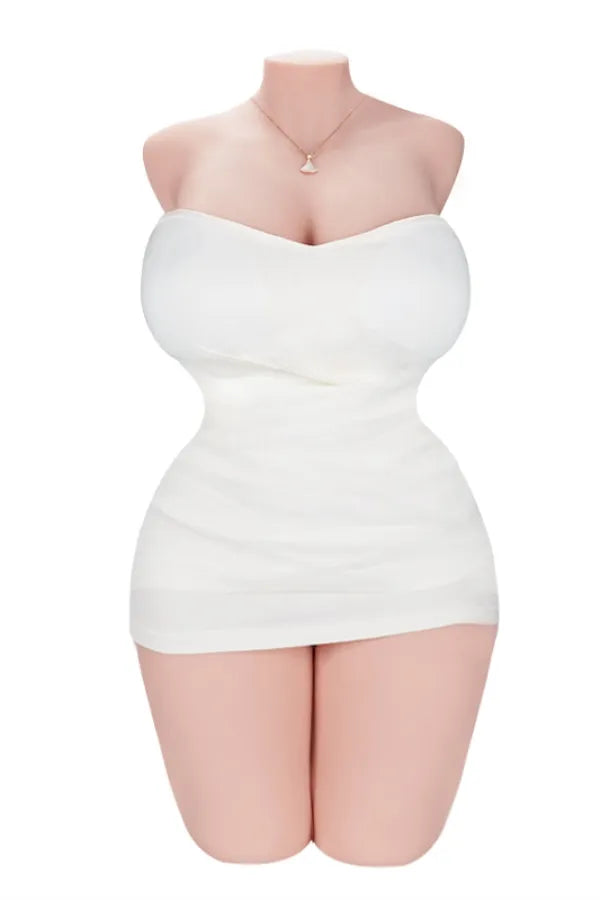 Monica - A great choice for killer breasts
Monica was newly divorced and feeling very lonely. She's looking for a new partner, and her big, soft, jiggling breasts will mesmerize you the moment they move. Her sexy curves and juicy booty will provide endless pleasure. Monica's looks draw you in, while her light weight and slender waist allow you to hold her with ease. She is made of TPE material, soft and elastic, allowing you to enjoy your time.
Explore more options
In addition to Monroe and Monica, Tantaly also offers a variety of other eye-catching sex torso dolls to satisfy a variety of different desires and fantasies. No matter which style you prefer, we have what you need.
Global leader in sex doll manufacturing
Tantaly is a leader in sex doll manufacturing, we lead the way and constantly innovate to ensure you get the highest quality product. Our dolls are handcrafted by expert craftsmen using high-grade materials for a realistic look and feel.
Halloween Discounts: Take advantage of this opportunity
Whether you want to change up your daily routine, explore new sexual fantasies, or have a special Halloween with the partner of your dreams, Tantaly has you covered. Our products are carefully crafted to provide you with a great sexual experience.
Security and privacy
Tantaly takes the privacy and security of its customers very seriously. We take all necessary steps to ensure that your purchases and information are protected at the highest level.
In Tantaly's Halloween sale, you'll have the opportunity to explore a variety of sex torso dolls to fulfill your sexual fantasies.
Tantaly's Halloween Discount Extravaganza
To make your Halloween even more special, Tantaly is hosting a spooky discount extravaganza. In this event, all torso dolls on the official website of all sites around the world are discounted 15% off, adding some special fun to your Halloween celebrations. Whether you want a companion to fulfill your sexual fantasies or want to spend a special night with a torso doll, Tantaly has an option for you.
How to incorporate discounts
To make the most of Tantaly's spooky discount extravaganza, you might consider picking up the right costume for your sex torso doll, creating a special Halloween-themed scene, or celebrating this special holiday with your partner. Whether you're looking to add excitement or simply have a good time, Tantaly's products can add more color to your Halloween celebrations.

Bestsellers:
1. Britney 2.0: 29.76LB big breast sex doll male masturbator
Price: $399.99
Description: Britney 2.0 is one of Tantaly's star products. She has amazing curves and a realistic look. This doll is ideal as a male masturbator, giving you unprecedented satisfaction.
2. Candice: 41.8LB The most realistic vaginal sex doll
Price: $479.99
Description: Candice is one of Tantaly's top sex dolls and her lifelike quality is amazing. Her textures and details will make you feel pleasure like never before.
3. Monica: 40.7LB Best Hentai Boobs Sex Doll Torso
Price: $529.99
Description: Monica is a Hentai lover's dream come true. Her breasts are flawless and have an amazing softness that makes you fall in love with them.
4. Mia: 19.2LB Shaky Ass Detachable Vagina Sex Doll
Price: $319.99
Description: Mia is a lightweight and pleasurable sex doll with a wobbly butt and a removable vagina to provide you with different pleasure experiences.
highly recommended:
1. Donna: 28.6LB sexy sex doll male masturbator, suitable for beginners
Price: $419.99
Description: Donna is a beginner-friendly sex doll with excellent realism. She will provide you with a satisfying sexual experience.
2. Rosie: 31.9LB durable big breasts sex doll
Price: $369.99
Description: Rosie is a durable sex doll with voluptuous breasts and dramatic curves. She will become one of your sexual fantasies.
3. Mia: 19.2LB Shaky Ass Detachable Vagina Sex Doll
Price: $319.99
Description: Mia is not only lightweight, but also has a detachable vagina, giving you multiple pleasure options.
4. Nicole: 47.6LB big breast adult sex doll for big breast lovers
Price: $629.99
Description: Nicole is the ideal choice for lovers of huge breasts. Her breasts are lush and dramatic and will satisfy your craving for big boobs.
Are you ready to role-play for Halloween?
At the Tantaly Horror discount extravaganza, you can also explore other Halloween-themed products such as BBW sex dolls, small sex dolls, and big butt sex dolls to fulfill different sexual fantasies.
Additional benefits of shopping:
Shopping at Tantaly has the following advantages:
FREE CONFIDENTIAL SHIPPING: We respect your privacy and all orders are shipped confidentially.
Payment Security: Your payment security is our top priority.
HIGH QUALITY GUARANTEED: Our products are carefully crafted to provide the highest quality sexual experience.
90-day warranty: We provide a 90-day product warranty to ensure your shopping is worry-free.
Tantaly Halloween Discount Extravaganza: The Best Halloween Deals of 2023
Halloween is a holiday full of fun and creativity, and Tantaly Halloween discount extravaganza will make this holiday even more special. In this special season, Tantaly offers you a range of exciting discounts and offers so that you can have maximum fun during the celebrations. In this article, we'll highlight some of the most attractive products and services, explain why they're worth buying, and help you better plan your Halloween celebrations.
Don't miss the Tantaly Horror discount event this spooky Halloween season. Whether you're a beginner or a serious sex doll lover, we have a product for you. Celebrate this special holiday and treat yourself to some unique fun. Enjoy Tantaly's offers and have a Halloween full of excitement and fun!
With Tantaly's Discounted Horror Extravaganza, you can incorporate some unique fun into this special season and create unforgettable memories. However you choose to celebrate, may you have a fun, scary, and unforgettable Halloween!