Comprehensive Guide to Realistic Fake Boobs Options for Torso Sex Dolls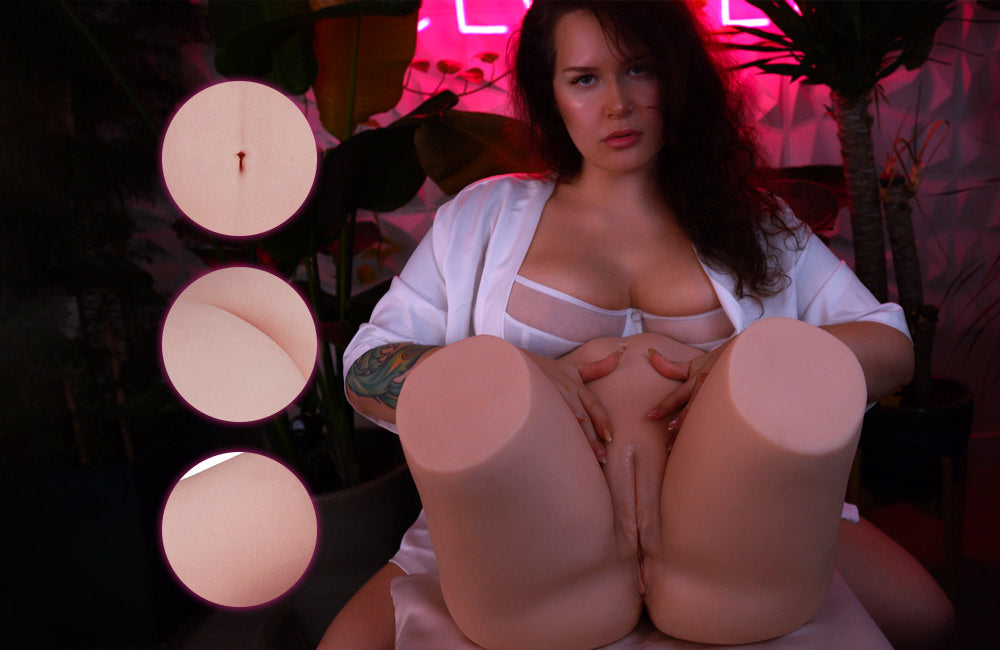 In the world of adult toys, the pursuit of realism and satisfaction has led to remarkable innovations. Among these innovations, the fusion of realistic fake boobs and adult torso dolls has emerged as a perfect combination that promises a heightened level of sensuality and intimacy. In this article, we will delve into the captivating world of these adult toys and explore why they are becoming increasingly popular among those seeking a truly immersive experience.
Renowned sexologist Alex Alexander once stated in a feature article for Vanity Fair magazine, "Men have only two attitudes towards women's breasts: intense interest or crazy obsession." Breasts are not only a symbol of femininity but also the first body part that individuals come into contact with from birth. From infancy, men develop a fascination with breasts of various shapes. If you are considering purchasing a sex doll torso and are unsure about how to choose the right one, this article will provide you with the necessary information to select the best sex doll torso to suit your needs.
Breast Options For Sex Doll Torsos
There are generally three types of breast options available for sex doll torsos on the market:
1. Solid breasts
2. Hollow breasts
3. Gel breasts
Below, we will discuss the features, advantages, and disadvantages of each type:
1. Solid Breasts
Solid breasts, also known as standard breasts, are made of standard TPE material. They are soft and flexible, but due to the absence of implants, they may feel slightly firmer to the touch compared to gel breasts. Solid breasts are typically used for A and B cup sizes.
Tantaly offers solid breast sex doll torsos such as Tantaly Miki, Tantaly Dita, and Tantaly Scarlett.
Advantages of Solid Breasts: Perky and firm.
Disadvantages: Slightly less soft and elastic compared to hollow and gel breasts. May not provide the natural feeling you desire with larger breasts.
2. Hollow Breasts
Hollow breasts are air-filled, making them softer and lighter than solid breasts. If you prefer large breasts that are extremely soft and bouncy, hollow breasts may be the right choice for you. However, hollow breasts are prone to breakage and collapse, which is why Tantaly has decided not to produce sex dolls with hollow breasts. Instead, we have upgraded our large-breasted dolls directly from solid breasts to the best gel breasts available.
Advantages of Hollow Breasts: Softer and bouncier compared to solid breasts. Lighter and suitable for larger breasts.
Disadvantages: Prone to breakage if squeezed tightly. Hollow breasts may sag easily.
3. Gel Breasts
As the name suggests, gel breasts are filled with jelly or gel material to provide a soft and supple feel. They are designed to mimic real body fat, making them the perfect choice for a realistic sex doll torso. However, if you wish to upgrade your full-body doll's breasts to gel breasts, an additional fee ranging from $70 to $100 may apply. Gel breasts are suitable for C cup sizes and above.
Generally speaking, solid breasts are the safest and most stable option, followed by hollow breasts and then gel breasts. This is because gel breasts require the addition of gel during production, and factors such as the fusion of the gel with the outer skin of the breast, the amount of gel added, the softness of the gel, and the thickness of the breast skin can all affect the softness, shape, and sagging angle of the breast, potentially leading to instability.
Advantages of Gel Breasts: Most realistic breasts. Extremely soft to the touch.
Disadvantages of Gel Breasts: Additional fee required to upgrade to this breast option.
Introducing Tantabosom - Tantaly's Unique Gel Breasts
Tantaly values customer feedback and strives to provide the best products to meet their needs. In response to numerous requests for better and softer breasts, our R&D team established a dedicated project team in April 2022. Our goal was to enhance the production process of existing breasts on the market and develop a new generation of gel breasts that are safer, more comfortable, and more realistic in shape.
To achieve this, Tantaly conducted extensive research on various types of doll breasts, including gel, hollow, and solid breasts. After careful consideration, we determined that gel breasts offered the most realistic touch and closely resembled real female breasts, making them the ideal choice for customers seeking soft breasts.
1. Cost Optimization: Gel breasts are known to be the most expensive to produce. Therefore, Tantaly focused on developing our unique gel formula to optimize the production process and reduce costs.
2. Realistic Jiggling: Tantaly aimed to make the jiggling of our gel breasts more realistic and secure compared to those available on the market.
3. Suitability for All Sizes: Existing gel breasts primarily catered to larger cup sizes (C cup or above). Tantaly aimed to create gel breasts suitable for both small and large breasts.
After six months of dedicated research and development, Tantaly successfully formulated the Tantabosom gel formula. Tantaly made significant improvements in the profound fusion of the inner breast gel and the outer skin, as well as production temperature control. Through rigorous testing, Tantaly achieved a more realistic bouncing effect and significantly reduced the cost of upgrading gel breasts through a new production process, ensuring a reasonable price for our customers.
Tantabosom breasts offer a more than 30% softer feel compared to ordinary gel breasts on the market. They provide a realistic shaking effect that simulates real breasts and maintains their natural shape without deformation over time. Unlike general gel breasts, Tantaly's exclusive gel formula caters to both small and large breasts.
For those who pursue high quality and ultimate enjoyment, we have specially launched a brand new Tantaly doll for you. Its unique gel breast enhancement formula Tantabosom will provide you with an amazing experience from time to time! Compared with ordinary gel breasts on the market, our ultra-soft gel breasts are more realistic, with 30% higher realism and softness, allowing you to truly feel the pleasure and pleasure of holding soft and moist breasts tightly.The GIFs below shows the comparison between Original Breast and Tantabosom.
Currently, the Tantabosom collection includes Tantaly Britney, Aurora 2.0, Monroe, Tantaly Candice, Jennifer, Badd Angel, and Morgpie. Stay tuned as we will soon introduce more Tantabosom doll torsos.
However, there are two important considerations when it comes to Tantabosom dolls:
1. Proper Storage: It is crucial to store the dolls with their breasts facing upwards, avoiding any pressure on the body that may deform the breasts. Additionally, handle them with care to prevent excessive force.
2. Enhanced Protection: After cleaning, we recommend placing the doll in Tantaly's customized polycarbonate packaging. This not only prolongs the doll's lifespan but also provides better protection for the breasts.
After comparing various breast options available for sex dolls, we confidently assert that Tantabosom breasts surpass solid, hollow, and general gel breasts in terms of softness and realism. If you desire a more lifelike sexual experience, we highly recommend Tantabosom dolls.
Realism is the driving force behind the appeal of adult toys featuring realistic fake breasts. These meticulously crafted breasts are designed to replicate the look, feel, and softness of real human breasts. The level of detail put into their design is truly astonishing, with intricate areolas, lifelike nipples, and a natural bounce that adds to their authenticity. When combined with an adult torso doll, these realistic features create a sensory experience that is remarkably close to the real thing.
One of the most significant advantages of these toys is the tactile experience they offer. The texture and feel of the silicone or TPE material used to construct the breasts and torso are incredibly close to human skin. Users often describe the sensation as both mesmerizing and arousing. Running your hands over the curves and contours of these toys can be an incredibly sensual experience, heightening anticipation and pleasure.
Adult torso dolls with realistic fake breasts come in a variety of shapes, sizes, and skin tones. This diversity allows users to find a doll that aligns with their personal preferences and desires. Whether you are drawn to voluptuous curves or a more slender physique, there is likely a doll that suits your taste. This versatility ensures that users can have a personalized and satisfying experience tailored to their unique fantasies.
In conclusion, the combination of realistic fake breasts and adult torso dolls represents a groundbreaking development in the world of adult toys. These innovative products offer a level of realism and sensory pleasure that was once unthinkable.