Evolution of Sex Dolls From Inanimate Objects to Lifelike Companions
Sex dolls tantaly monica have a long history, dating back to ancient times, but it is the modern era that has witnessed significant advancements in their design and function. From simple inflatable dolls to lifelike companions, torso sex dolls have evolved to become highly realistic and customizable. Crafted with attention to detail, they feature lifelike skin textures, sculpted features, and posable limbs, creating a sense of realism and human-like presence.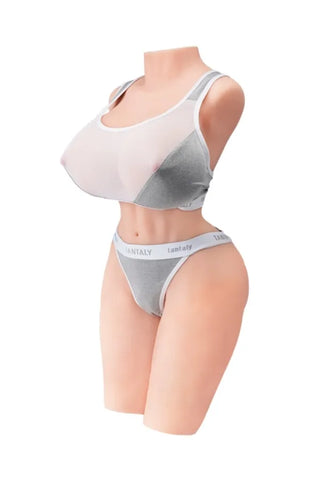 Torso sex dolls, as the name suggests, focus on the upper body, often excluding the limbs and head. This design choice allows for a more compact and versatile companion. The dolls are typically made from high-quality materials such as silicone or TPE (thermoplastic elastomer), providing a soft and lifelike touch. Their realistic features, including breasts and anatomical details, offer a sense of intimacy and connection.
While torso sex dolls have traditionally been associated with sexual pleasure and fantasy, there is a shift in perspective, recognizing their capacity for emotional support and companionship. Individuals are discovering that these dolls can fulfill a broader range of needs beyond sexual gratification, becoming sources of comfort, understanding, and personal growth.
Loneliness is a prevalent issue in today's society, with numerous individuals experiencing social isolation. Tantaly sex doll can offer companionship, helping to alleviate feelings of loneliness by providing a physical presence and a source of emotional support. The tactile interaction and the feeling of being embraced by a warm and responsive doll can provide comfort and a sense of connection.
In a judgment-free space, torso sex dolls offer unconditional acceptance and understanding. They do not judge or criticize, providing a safe environment where individuals can freely express themselves without fear of rejection. This non-judgmental companionship can be particularly valuable for those who struggle with social anxiety or have difficulties forming and maintaining relationships.
Interacting with a torso sex doll can serve as a catalyst for emotional expression and communication. Individuals may find it easier to open up and share their thoughts, feelings, and fears with a non-threatening and non-judgmental companion. This process can help develop emotional intelligence, improve communication skills, and foster a deeper understanding of one's own emotions and needs.
Torso sex dolls can create a safe and comforting space where individuals can relax and unwind. The act of hugging or cuddling with a doll can release oxytocin, a hormone associated with feelings of calmness and well-being. This physical contact can provide a soothing effect, reducing stress and anxiety levels.
Engaging with a torso sex doll tantaly monroe can serve as a distraction from the demands and pressures of daily life. The focused attention and connection with the doll can redirect thoughts and energy, offering a reprieve from stressors and promoting a sense of tranquility. This meditative quality can contribute to improved mental well-being.
Torso sex dolls are designed with realistic textures and features, providing sensory stimulation and relaxation benefits. The tactile experience of touching the doll's soft skin and running fingers through its hair can be soothing and calming. This sensory engagement can help individuals reduce anxiety, alleviate stress, and promote a sense of overall well-being. Moreover, the dolls can be incorporated into sensory therapy approaches, offering a comforting and grounding presence during sessions.
Conclusion
Torso sex dolls, often overshadowed by their sexual aspects, possess a profound potential beyond physical intimacy. As we explore their non-sexual benefits, we discover their ability to provide emotional support, alleviate loneliness, and foster personal growth. These dolls have the capacity to become trusted companions that offer solace, understanding, and an avenue for self-exploration. While ethical considerations and societal perspectives remain important, it is crucial to acknowledge the positive impact torso sex doll companionship can have on individuals' well-being. By embracing responsible manufacturing, conducting further research, and engaging in open dialogue, we can fully appreciate the non-sexual advantages of these dolls and recognize their place as tools for emotional connection, personal growth, and therapeutic support. Let us celebrate the evolving understanding of torso sex dolls and embrace the profound non-sexual benefits they bring into our lives.